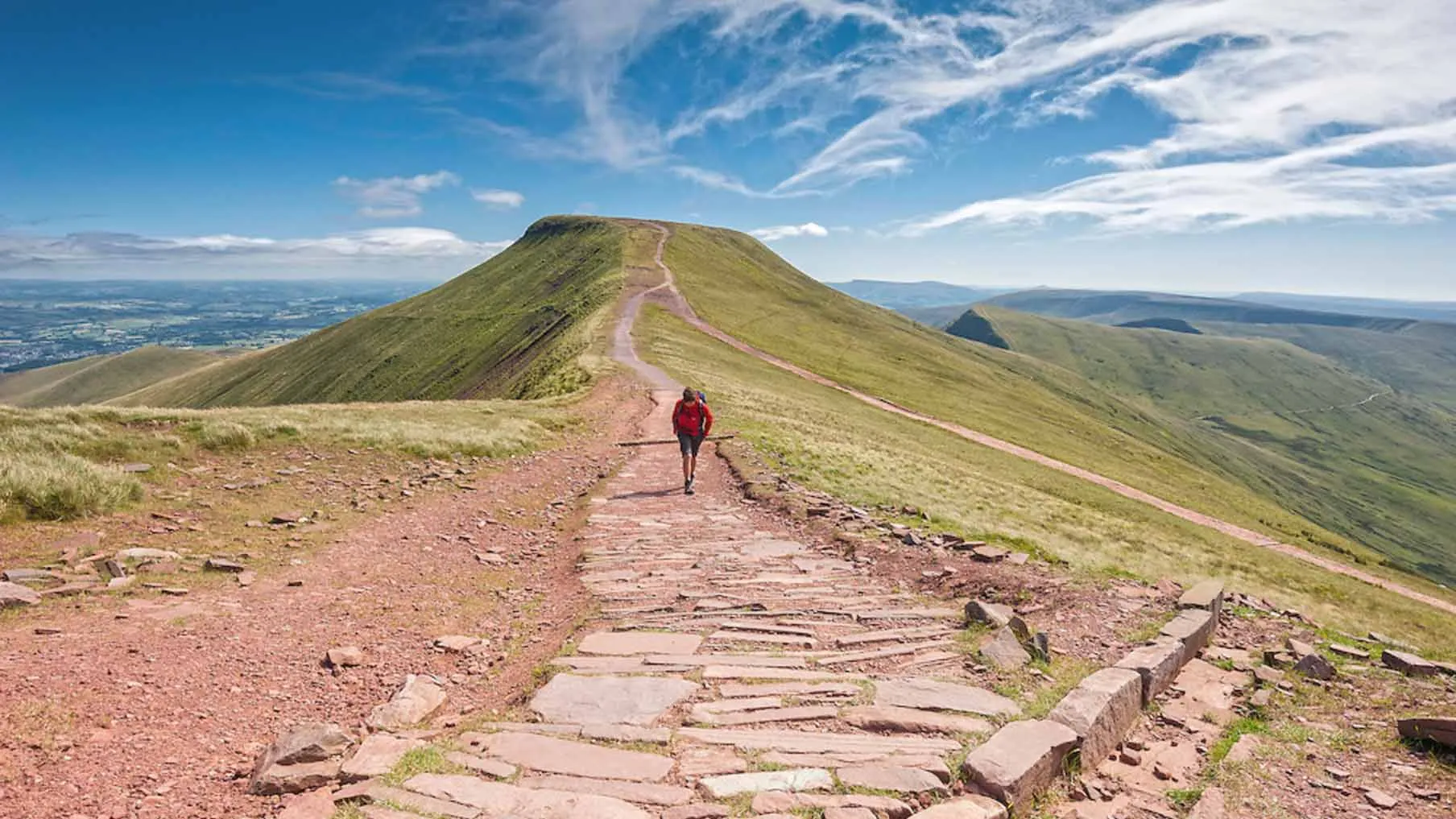 7 Things To Do In The Brecon Beacons
Looking for things to do in the Brecon Beacons? You're not going to be short of options. From great places to eat to amazing hikes, the national park has a lot to offer.
So whether you're planning a day trip or a longer visit, here are our top tips for activities in the Beacons.
Walk up Pen-y-Fan from Nant Cwm Llwch
There are countless routes up Pen-y-Fan, the Brecon Beacons' highest peak.
Our favourite? Head up from Nant Cwm Llwch. In fact, if you're feeling energetic, you can start this walk from Brecon itself. Leave a good six hours from Brecon – and four if you don't. We like this route for many reasons. First up, if you've ever climbed from Storey Arms, you'll know what we mean about the 'motorway'. It can get very crowded. While the route is more challenging from Nant Cwm Llwch, you're much more likely to get some solitude.
The route begins by the river, there are great little waterfalls and a short wander through the woods, then you'll emerge onto the hillside and the climbing begins.
You'll pass the tarn lake, LLyn Cwm Llwch – it's not bad for a dip on a warm day. But let's be clear, the water is never warm.
From there you'll climb up onto the ridge below the Tommy Jones memorial and reach Corn Du from below. Take in the views and then head onto Pen-y-Fan for that selfie. You can either head down the same way you came, or carry on past Pen-y-Fan back into Brecon via Cwm Gwdi.
One thing I would absolutely not recommend (having tried it myself), is charging down the face of Pen-y-Fan back towards the path to Nant Cwm Llwch. The gorse is thick. The hill is steep. My thighs were burning for a week afterwards. Consider yourself warned.
Walk the Camarthen Fans
If you follow us on Instagram, you'll know that we're a big fan of the Carmarthen Fans.
I grew up near Sennybridge so I've got plenty of happy memories mucking about, exploring and swimming the river pools beneath this glorious mountain range.
It's much less visited than Pen-y-Fan, but the scenery is just as spectacular. Our advice would be to park up about here and head in past the waterfalls from there. Once you reach Llyn y Fan Fawr at the top of the waterfalls, you can either head up onto the hills, or head back for a well-earned dip.
Kayak the Wye
One of my favourite things to do (on the edge of) the Brecon Beacons is a kayaking trip down the River Wye.
The time of year (and the unpredictable Welsh weather) will dictate how challenging your adventure is – and it could go either way. If the water is low, you'll find yourself doing a lot of paddling (and potentially carrying your kayak over the shallows); if the water is high, you'll get more thrills – and a lot wetter.
There are countless great beaches to stop off for a picnic and to lounge in the sun/ rain/ have a swim. If you're lucky you'll spot some wildlife – otters, kingfishers and herons aren't uncommon.
You can rent boats from Glasbury (Wye Valley Canoes) or Three Cocks (Black Mountain Adventures) – and depending on how far you want to go you can get picked up at Hay or keep trucking down to the toll bridge.
Wherever you end up, a beer and a snack at Wye Valley Canoes' brilliant River Café should be on the agenda once you're on dry land.
Cycle the Usk Resovoir
If a bit of mountain biking is your bag, you'll have a ball around the Usk Reservoir.
It's not crazy challenging, but there are plenty of trails to explore – and if you've got kids it's not so far that you'll have a tantrum on your hands. The views are pretty spectacular and the main path is well kept.
We'd recommend getting your hands on at least some hybrid tyres as it can be rough going in places (leave your racing bike at home). If you're feeling a bit more adventurous, BikePark Wales provides some of the best trails in the UK.
Explore the spectacular castles of the Western Beacons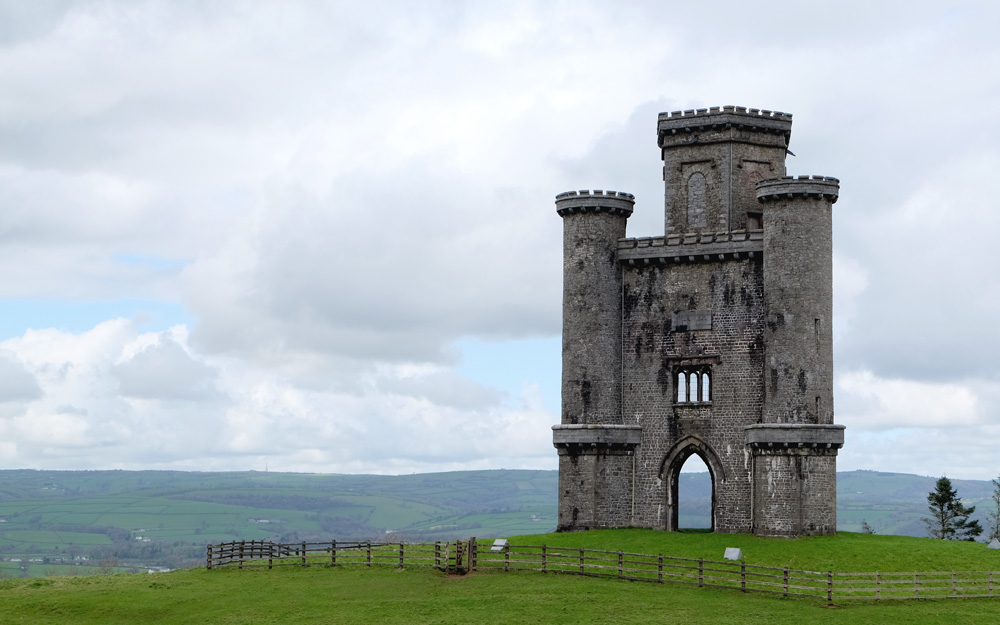 Let's be clear. Whoever decided to build Carreg Cennen castle back in the 13th Century, is an evil genius.
It's perched on the top of what can only be described as a massive cliff. While mostly ruined today, it's a fascinating place to explore. You can still access some of the caves under the castle via a fairly terrifying tunnel built into the side of the cliff face – take a torch! There are also some great walks in the surrounding valley.
Just down the road in Llandeilo, you'll find the Dinefwr estate. A National Trust property, it's home to both Newtown House and the castle itself.
Cycle the Devils Staircase
If you love a challenge in the saddle, you'll love this one. About 20 miles north of Brecon lies the infamous Devils Staircase.
We'll let you decide from how far away you tackle it from, but make sure you conserve some energy for the climb. Starting from Abergwesyn, the Devil's Staircase ascent is around 3 miles. Over that distance, you climb 227 meters.
If there's one thing we'll promise, it's that you'll enjoy heading back down. And if it doesn't quench your cycling thirst, check out the Beacons Beast mountain bike challenge.
Gorge Walking
If, like me, the thought of caving or rock climbing gives you a minor panic attack, gorge walking might just be the right adventure for you.
It's a bit like coasteering. But in a gorge. That much should be obvious. You'll get suited and booted in a wetsuit, and then spend the day clambering up a river. You'll traverse around the cliffs, swim through rapids and explore some caves (if you want to, it's all optional!).
If you do it near Ystradfellte there are also some big old cliff jumps into an old quarry to round off the day if you're feeling a bit crazy.
You'll need a good instructor if you don't want to end up in A&E – Hawk Adventures run half-day and full-day trips to Ystradfellte.