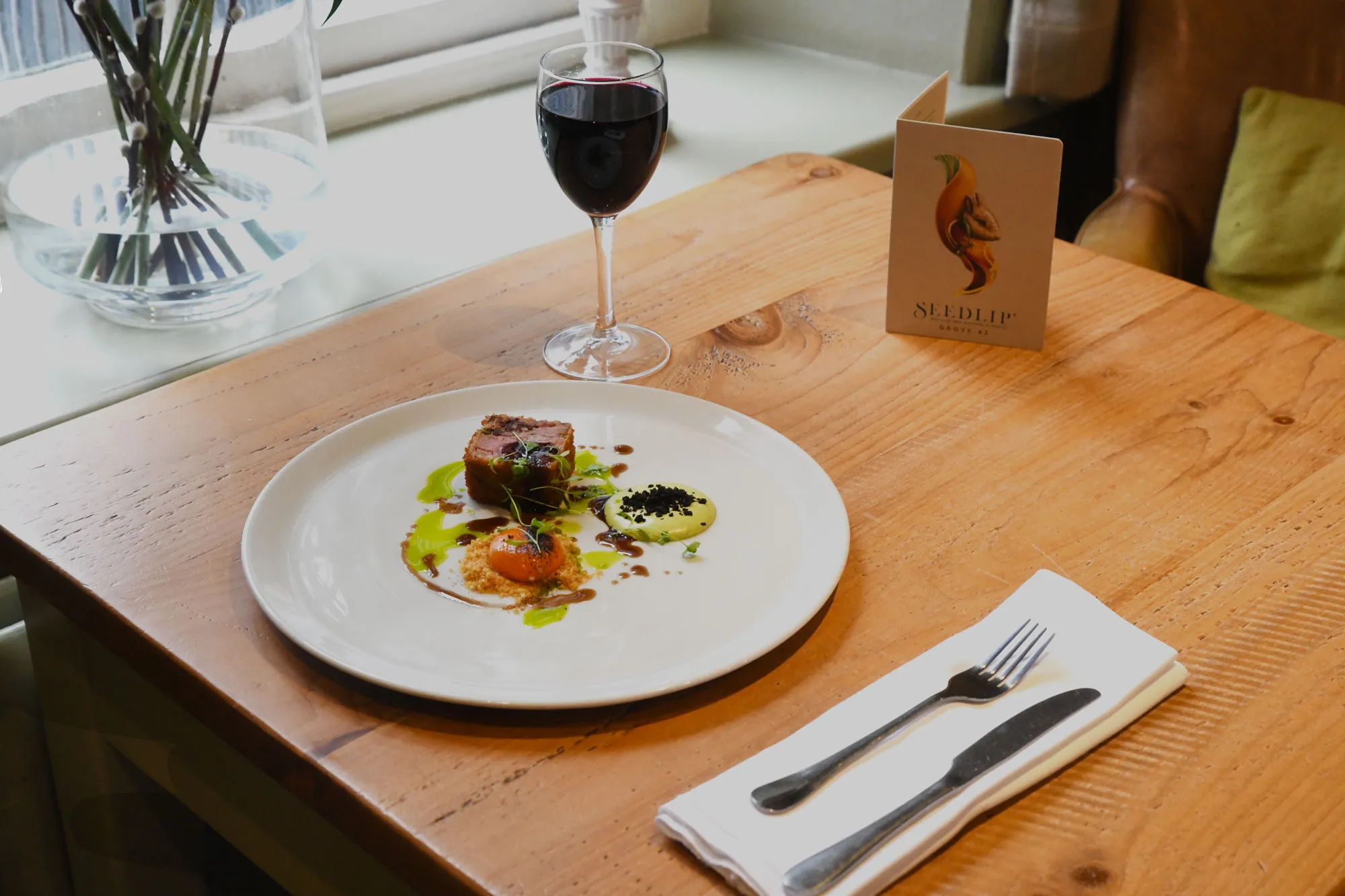 The Best Places to Eat in the Brecon Beacons
The Brecon Beacons is rapidly becoming an amazing foodie destination. From cozy country pubs to excellent farm shops, there's a bit of something for everyone. Hay on Wye recently picked up its first Michelin Star, and you'll struggle to find a better roast than one brilliant little pub in Groessfordd.
So, whether you're looking for a post-hike feed (check our guide to the best walks in the Beacons) or something a little more gastropub, these are some of our favourite spots in the Brecon Beacons.
In no particular order: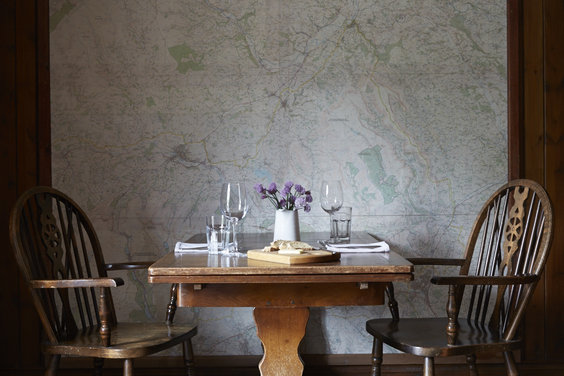 Discover Cymru's Best Places To Eat In The Brecon Beacons
The Three Horseshoes, Groessfordd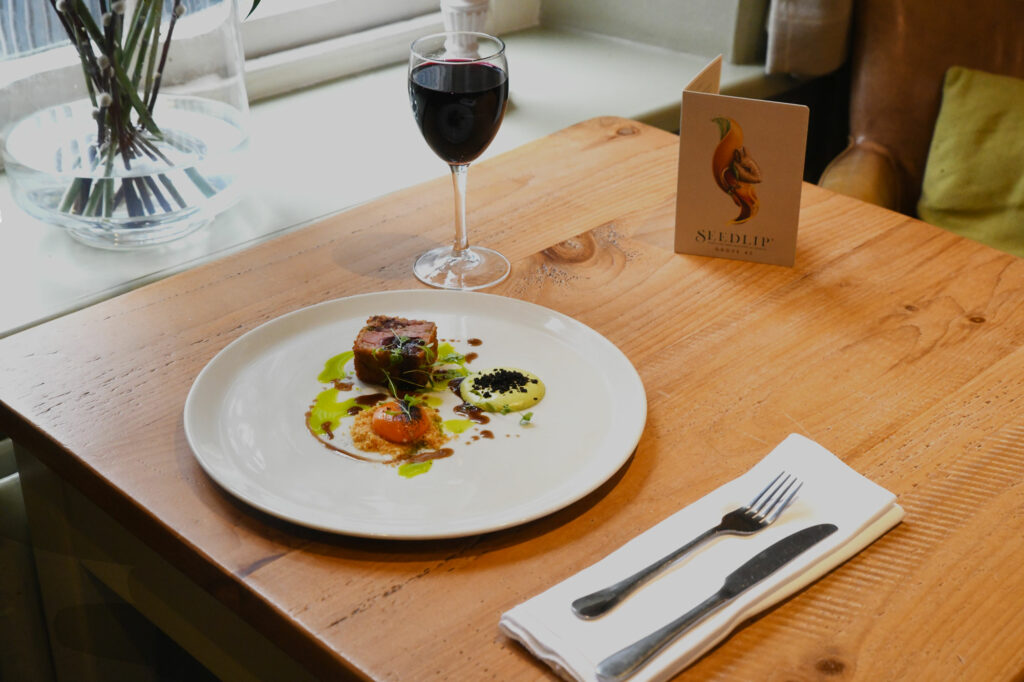 Hidden pubs of the 'who knew?' sort take you by surprise. Hidden in a housing estate beside an old railway cutting, The Three Horseshoes in Groesfford serves some of the best pub food you'll find in Wales. The homemade bread served with marmite butter that arrives whilst you wait for your order is always a winner. Seek out this 'best-kept secret' on a sunny day and you can even catch a view of the Beacons from the tiny garden over the village rooftops.
It's an amazing spot for a Sunday roast! Find out more on their website.
The International Welsh Rarebit Centre, Defynog
For great belly fodder in Wales, we have the Welsh Rarebit. For those unacquainted — that's a gourmet cheese on toast!
And there's no better place to sample it than at the International Welsh Rarebit Centre. You have to like cheese (obviously) and in Defynnog it comes with chilli, beer, and all sorts of unusual seasonal combinations. Delicious bread baked on-site adds to the winning combo!
There is also locally sourced produce on sale, and a gallery of local artists to browse upstairs. You can find out more about them here.
The Felin Fach Griffin, Felin Fach
The foodies among you may be familiar with the "Eat, Drink, Sleep" group of eateries. The team behind The Griffin also runs the renowned Gurnard's Head and Old Coastguard Hotel, both in Cornwall — and all three are excellent. If you need to lay your head somewhere post-meal, they have a selection of beautifully appointed rooms upstairs.
It's a fantastic base for exploring the Brecon Beacons and is just a few miles outside Brecon itself.
HILLS Burgers, Brecon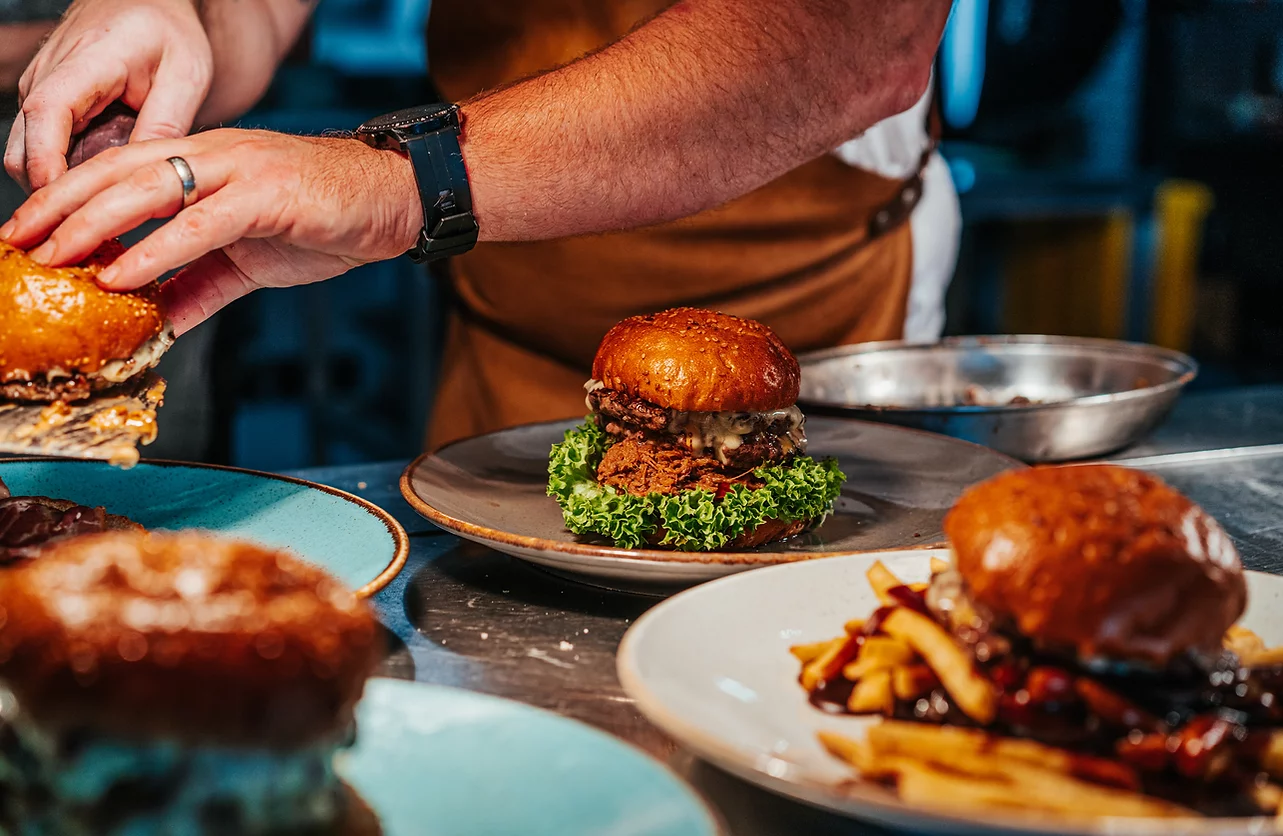 This award-winning burger joint on the edge of Brecon has rapidly built an excellent reputation over the last few years. Healthy? Perhaps not, but after a long day on the hills exploring this brilliant area, you'll have earned a few extra calories. And they're undoubtedly some of the best burgers in Wales.
HILLS is a short walk from Brecon town center at Bishops Meadow or a 2-minute drive. You can book a table via their website.
Bean and Bread, Abergavenny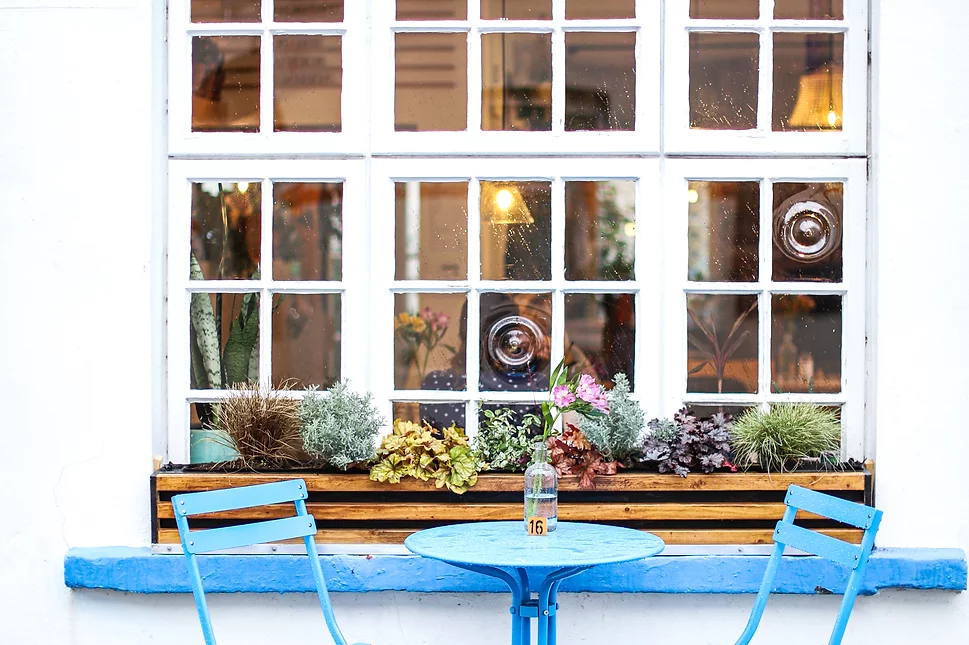 Bean and Bread in Abergavenny is a wonderful coffee and brunch spot — if you love the Aussie/ Kiwi brunch vibes, you'll find them here. The space is influenced by owner Jess' time living that coffee shop live in Wellington, New Zealand.
Serving up Origin's excellent coffee and great grub with plenty of vegan and veggie options on offer, it's a great pit stop and easy addition to our list of the best places to eat in the Brecon Beacons.
By The River, Glasbury
Another great coffee spot, By The River in Glasbury comes to you from the team who until recently were running The Bakers Table at Talgarth Mill. The team have taken over the space that used to be home to the River Cafe, and are now serving up delicious pastries and coffee on the banks of the River Wye.
They also have a number of pop-up 'Feasts' with renowned chefs and cookery classes planned. Find out more over on their website.
Chapters, Hay on Wye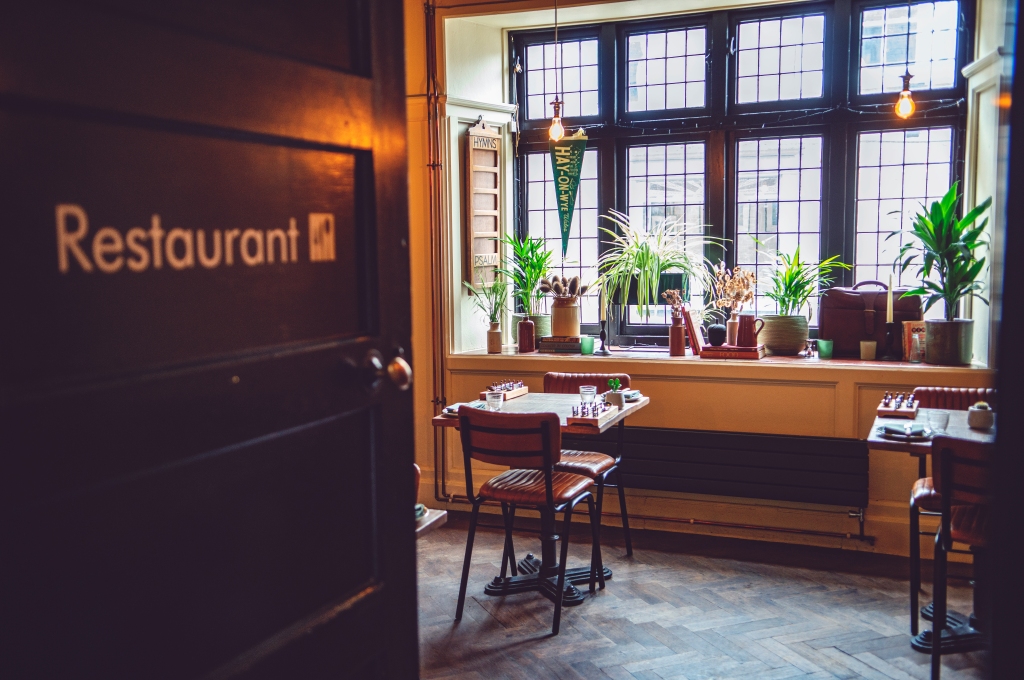 Chapters restaurant in Hay on Wye is now the proud owner of the prestigious Green Michelin Star — one of only nine awarded in the UK this year. And it's no surprise when you consider their fantastic ethos as told by chef Mark McHugo:
"We wanted to create a restaurant which supports the people of the town, to be somewhere people want to come to celebrate their events and to enjoy meals with their loved ones. The key aspect for us is that everyone feels welcome and it is important that people know that when they enjoy a meal here they are also supporting the local economy with local produce being at the centre of our menus"
You can make a booking to eat at Chapters via their website.
Wright's Food Emporium, Llanarthney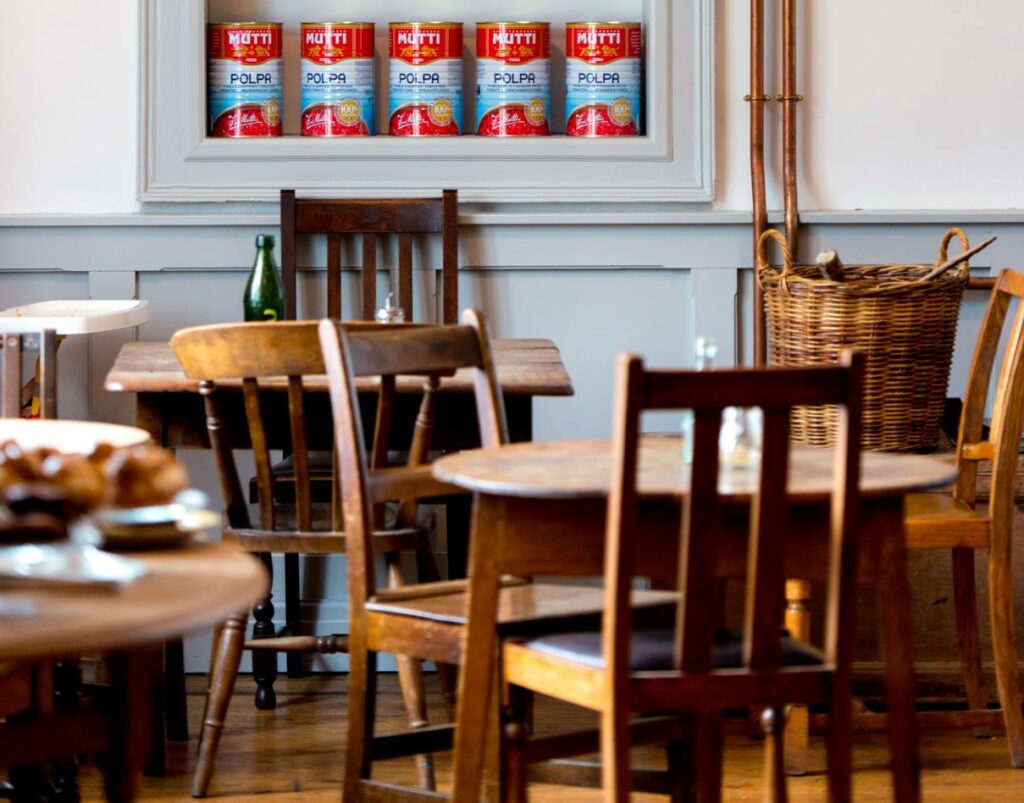 Wright's Food Emporium can be found at the western edge of the Brecon Beacons National Park. It's a combo of a brilliant deli and an excellent eatery. Stop by for beautifully crafted grub, from a comforting lasagne, or the greatest hits from their cake table.
And if you're looking for a little something to take away, their take-home meals and culinary delights in the shop — many locally sourced — will have your shopping bags bulging.
Diod, Llandeilo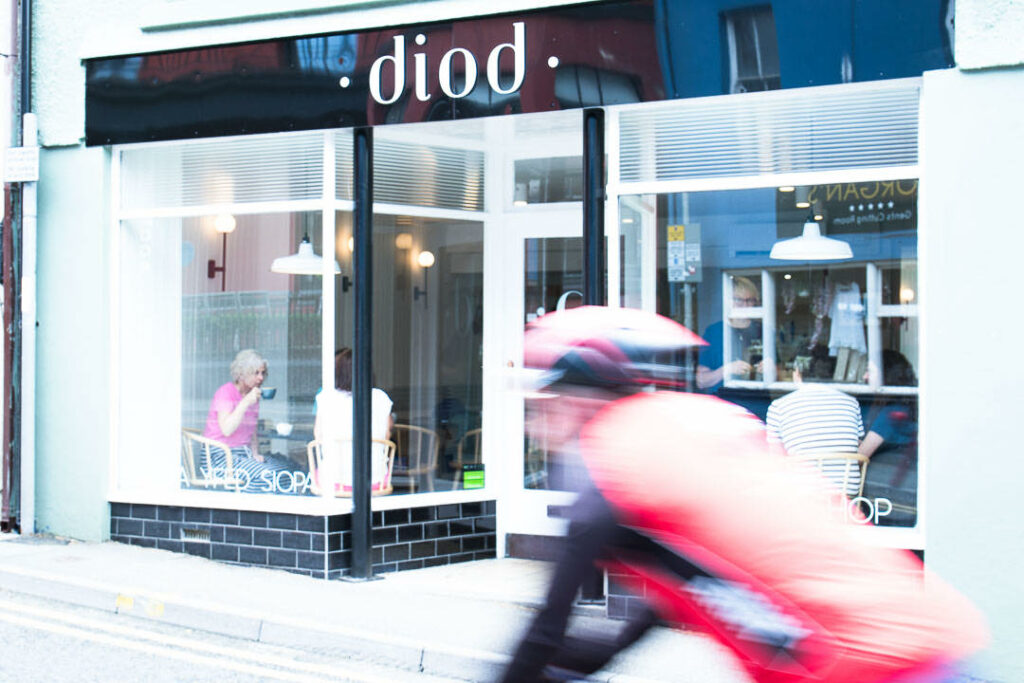 A new edition for the already well-established foodie hub of Llandeilo. Diod is a new coffee and wine shop serving up baked goods from the excellent Crwst Bakery. The chilled scandi vibes make it a great spot to kick back with a flat white.
Find out more about Diod them over on the website.
---
Have a location you think we should add to our list of the best places to eat in the Brecon Beacons? Send us an email.