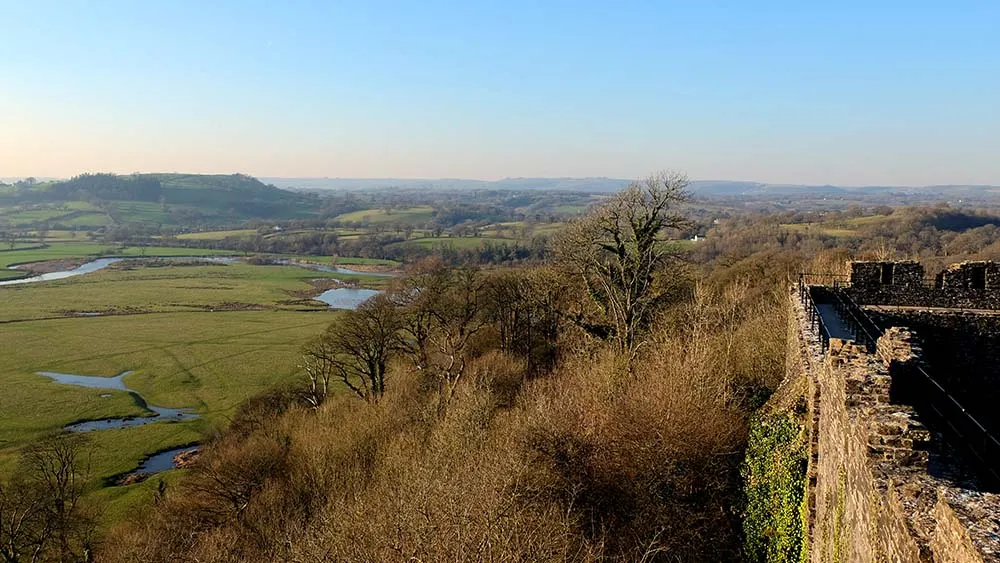 Exploring Carreg Cennen Castle, Dinefwr Castle and Llandeilo
If you're looking to explore some amazing Castles in South-West Wales, then I'd highly recommend a visit to Carreg Cennen Castle and the surrounding area. There are three great ruins to explore including Carreg Cennen, all within a thirty-minute drive of each other. Plus, Llandeilo is great for a spot of lunch in-between.
We visited on a sunny January Saturday – and it was an incredible day. The views were amazing, thanks in part to the weather, but also due to the sheer madness of where these castles have been built.
We drove west from Brecon along the A40 and then swung left in Trecastle to take the scenic route to Carreg Cennen castle. Make sure to make a stop and look left at the Camarthen Fans. They're spectacular, even at a distance.
Your Instagram followers will thank you later.
Carreg Cennen Castle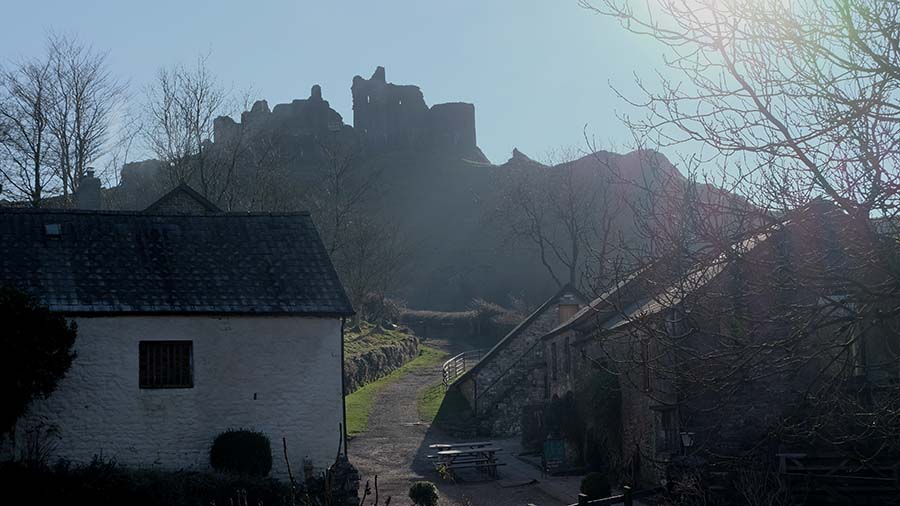 First stop, Carreg Cennen Castle.
There's ample parking at the bottom of the hill at Carreg Cennen – and there's a café and gift shop if you're already after a cuppa. Entry costs £5 per adult. Don't make the mistake of walking straight past the gift shop towards the castle as we did. The staff will shout you back down to pay pretty promptly. Sorry team!
There are horses, chickens, and a peacock in the farmyard if you have kids wanting to meet some farm animals. The cafe is part of a tithe barn used as an event space and it also has a small chapel with great views down the valley. If you're looking for somewhere to tie the knot in the area, check it out.
The walk up to the castle is short and sharp; you'll be up top in ten minutes. If a longer walk is what you're after, there are some lovely trails in the valley and along the river below. You can easily build these in before or after your castle exploring for more of an adventure.
The Castle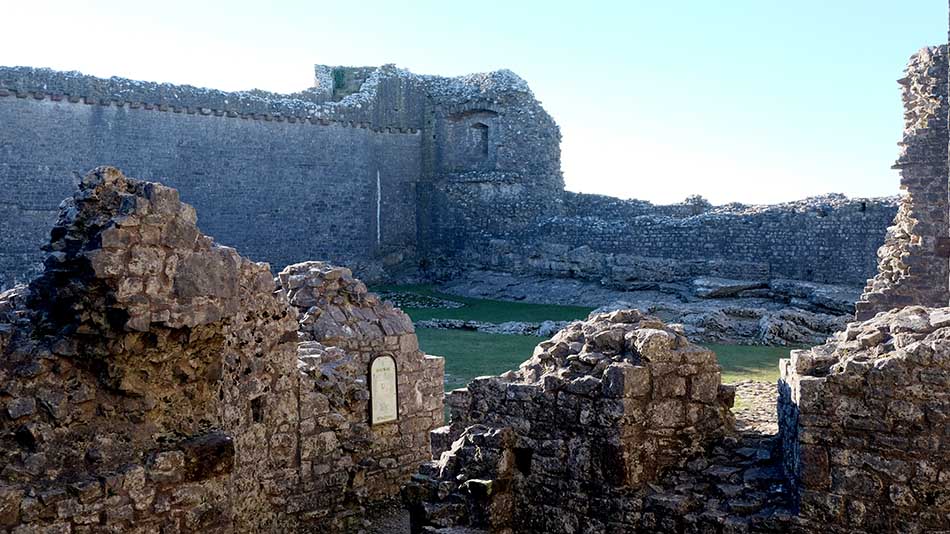 Outside the main ruin, there are some old lime kilns – and amazing views over the cliff edge. If you value your kids and pets, it's worth keeping them away from any suspicious-looking ledges(!).
The castle itself is fascinating – there are walkways throughout the ruins and plenty of walls and windows to clamber on and investigate (just mind those suspicious ledges).
On the far side of the main courtyard, you'll spot some steps. They lead down a narrow man-made tunnel through the cliff face and into some caves beyond. Take a torch – you'll need it. And if, like me, you're scared of heights – it's probably worth either legging it down the tunnel or staying up top. Definitely don't look out of the windows and over the suspicious ledge. It's a mighty big drop.
A mighty big drop means mighty fine views — you can see for miles in all directions. I'd recommend heading there on a clear day to soak it all up. Although I'm well aware they can be few and far between in Wales.
Llandeilo
From Carreg Cennen we drove the five miles northwest to Llandeilo. Llandeilo has a reputation for being a bit posh. It is a bit posh. But that makes it quite nice.
We had lunch at the brilliant Ginhaus Deli. If you're after great local cuisine, and even greater gin, it comes highly recommended. I had the prawn and chorizo platter, top marks. The staff were very knowledgeable about their range of gins and suggested the 'Gin Board', a selection of three gins and two tonics to sample. They were all delicious – try it.
If you're after some retail therapy, Llandeilo is home to the brilliant TOAST – and there are some great arty style places, a place for buying some jewels, and a proper old-school independent homeware store.
Your mum will love it. Mine does.
Dinefwr Castle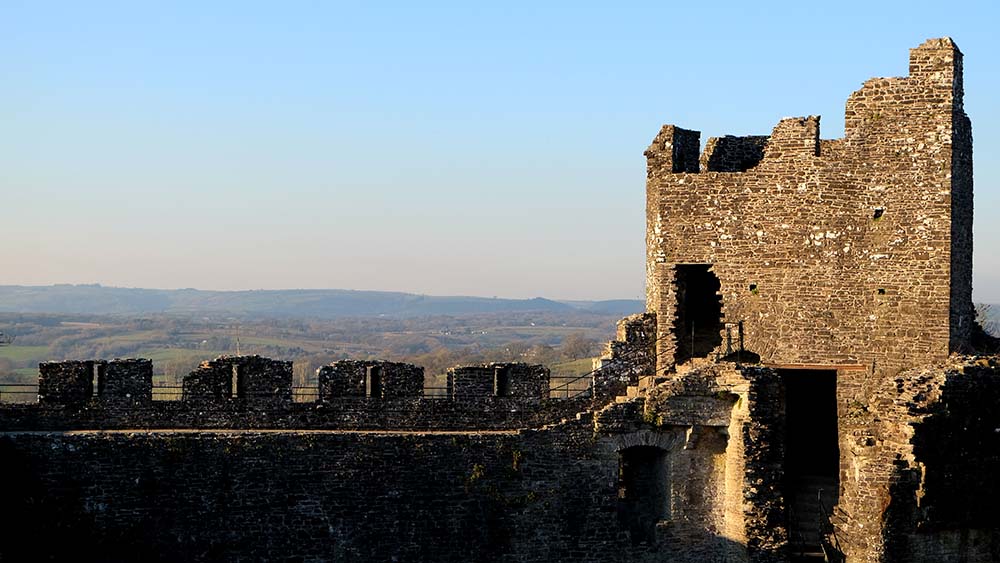 After lunch, we headed up to the Dinefwr estate on the edge of Llandeilo.
Mentioning parking twice in one article is pretty nerdy, but it's too late now: there's plenty. There's a small charge to park and explore the property, or you can become a National Trust member which gives you free access to properties across the UK.
From the car park you can walk about a mile across parkland to the main castle. It looks like there's normally a little café en route, but it was closed up (it was January, I guess).
There are plenty of trails and walks across the estate – and you can also get into the deer park until mid-afternoon where you can spot the deer herd. The castle itself is in an equally impressive spot to Carreg Cennen (although fewer suspicious ledges), with views across the Towy valley below.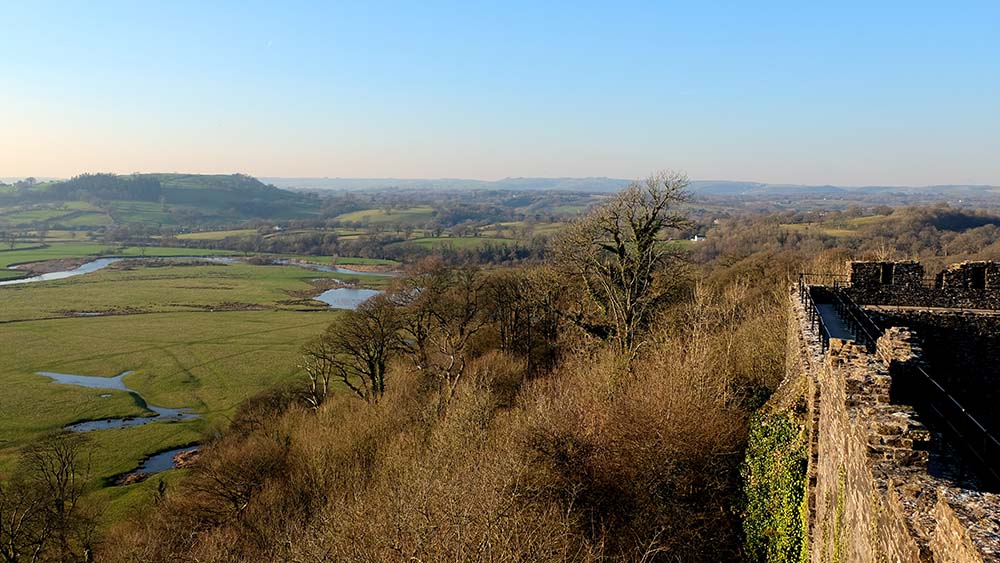 The castles' main walls are still in pretty good condition – and three of its towers are still climbable. That means a great vantage point over the surrounding countryside. When we got there the sun was swinging low in the sky and a hot air balloon was drifting low over to the West. Pretty spectacular.
If you visit on a clear day you'll spot another castle at the other end of the valley. That's Dryslwyn Castle.
We ran out of sunlight to fit in Dryslwyn as well (damn you Ginhaus and your delicious gin) – but it's on the list for next time.
Newtown House
Wandering back towards the car park (if you're counting, that's my third car park mention) we took a de-tour to check out Newtown House.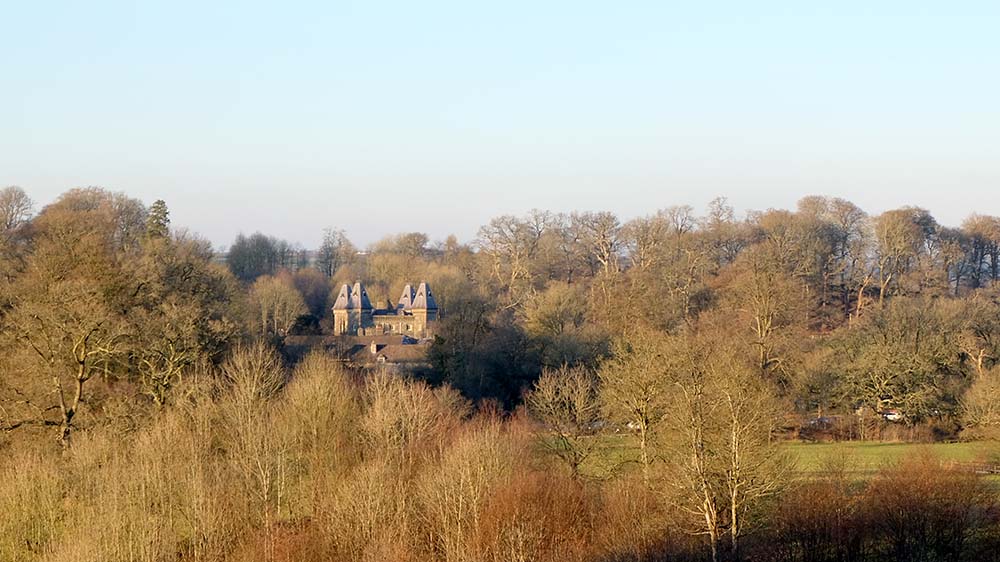 The house is a National Trust property, and it's pretty imposing. There's a café – and take a look around (we didn't, this time). If you're there at the end of the day like we were, head round to the back of the house and soak up the sunset through the woodlands beyond.
We spotted the deer herd settling down for the night in the distance. That's them on the right of this shot.
Dreamy.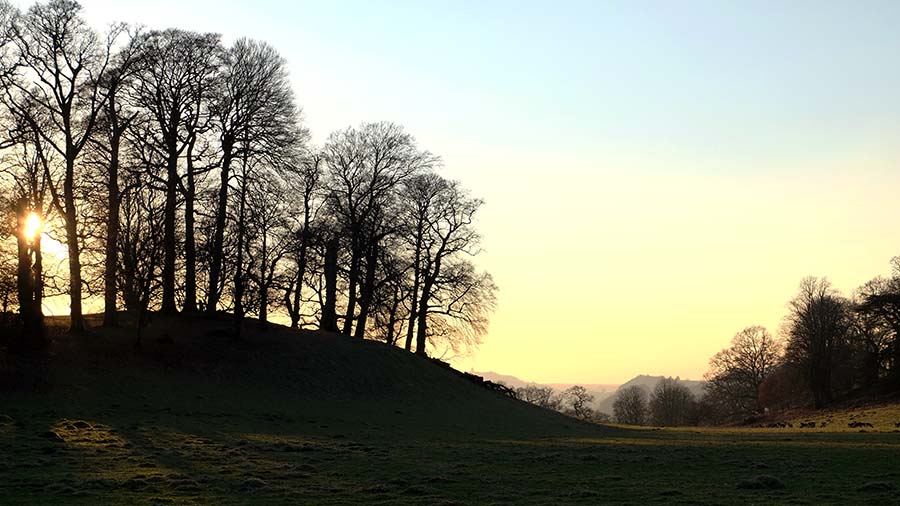 ---
In the area
While we didn't have time to check them out on the day, there's plenty more to do in the area.
A few weeks later we headed back (in much worse weather!) to check out Paxton's Tower and Drwyslyn Castle.
Also nearby:
And you're only a stone's throw from the Brecon Beacons National Park.