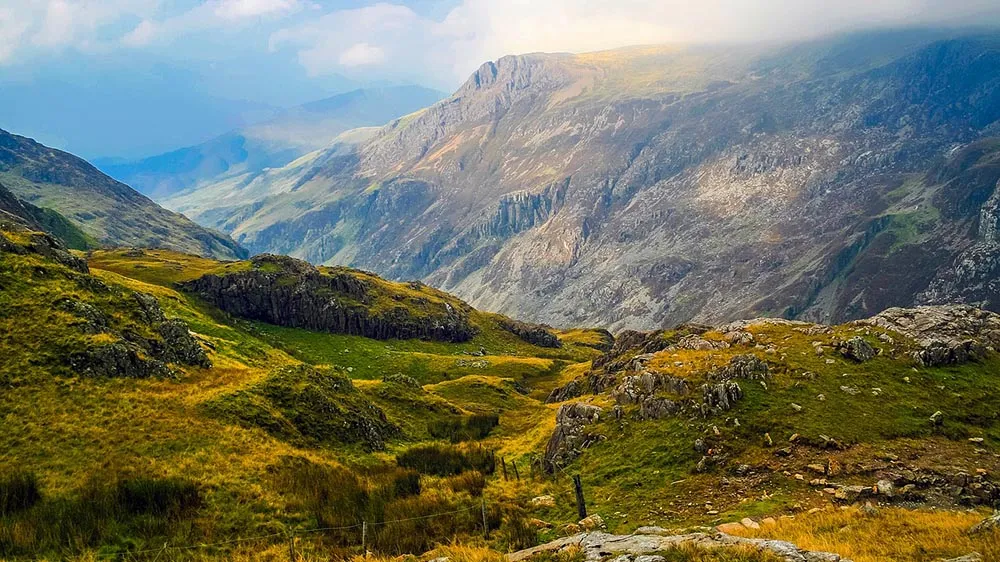 Weekend Breaks in Wales
Planning a weekend in Wales? Good choice.
Wales is the perfect destination for spectacular scenery, beautiful coastlines and some great towns and cities. Whether you're looking for a weekend of adventure, or a city break, a weekend in Wales is great choice.
In terms of travel time, it's only a few hours by or train from some of the UK's biggest cities – so if you're looking to escape the city, it might just be your closest wilderness.
Take me to the mountains
If you're looking for a weekend at altitude you're in the right place.
You've got two options – North versus South – the Brecon Beacons versus Snowdonia. Both have a lot to offer, from hill walks to challenging climbs, here's the skinny:
Snowdonia
Snowdonia is in North Wales – it's home to Snowdon (Wales highest peak), has views to the sea and it's a stone's throw from the beautiful Island of Anglesey. Plus, Lonely Planet chose North Wales in one of its must visit destinations for 2017.
If you're looking for more challenging climbs and hikes, Snowdon is probably the destination to explore first (but you should probably do both!).
If you just want to conquer Wales' highest peak, there's also a train to the top of Snowdon.
The Brecon Beacons
The Brecon Beacons national park is situated in South Wales – and features 519 square miles of stunning scenery. It may not reach the lofty heights of Snowdonia, but it's landscapes are just as beautiful.
With the lovely market towns of Hay-on-Wye and Llandovery at either end of the National Park, and Brecon right at the heart, there's plenty to do. Pen-y-Fan, the highest peak, has multiple routes to the top to suit all abilities of walker.
Our guide to days out in the Brecon Beacons has more and if you're looking for great places to eat in the Brecon Beacons head here.
Take me to the seaside
Wales isn't short of stunning coastline.
In fact, the Wales Coastal Path runs around most of it – almost 800 miles of beautiful walking routes and countless beautiful Welsh beaches. There are countless destinations to explore, but here are some of our favourites:
The Gower Peninsula
Just down the road from Swansea, Wales' second city, lies the Gower Peninsula. It was the UK's first designated Area of Outstanding Natural Beauty – and it's beaches have won international awards for their dramatic scene.
It has a lot to offer – from surfing to walking, coasteering to great pubs – it's a great destination for all the family.
Pembrokeshire
Pembrokeshire, in South West Wales, is the country's third national park – and Britain's only coastal national park. It's 186 mile coastal path is a favourite and the towns of Tenby and St Davids are full of character – in fact, St Davids is the UK's smallest city, with a population of just 1400.
If watersports are your bag, then you can't go far wrong in Pembrokeshire – it's the home of coasteering and has some truly world class beaches.
Anglesey
Anglesey is an island off the North West tip of Wales. Accessible by bridge, it's a holiday in itself. Just like the above, it's home to a great mix of walking, beaches and water-sports.
Take me to the town
Wales isn't all countryside, and if you're in need of some town comforts there's plenty on offer.
We can't list every town (or you'd be here all day), but here are a few favourites. And if none of these tick your boxes, check out Brecon, Cardigan, Aberystwyth, Hay-on-Wye, Portmeirion… you get the picture.
Cardiff
Wales' capital is brilliant destination for a city break. It's cosmopolitan city centre offers an abundance of great restaurants, bars and culture. For the culture vultures Cardiff Museum, Castle and the Millennium Centre have plenty on offer.
And if you want to mix city with country, the Brecon Beacons are just a 45 minute drive or bus ride away.
Tenby
We already mentioned it, but Tenby has long been a popular holiday destination in Wales. With plenty of charming accommodation, proper old pubs and brilliant beaches it's a great spot for a weekend away.
Llandeilo
In the Western end of the Brecon Beacons lies Llandeilo. It's a great little town with plenty of great shops – in fact it's home to TOAST. There are also the stunning Carreg Cennen and Dinefwr Castles within ten minutes drive.
Plus, it's within striking distance of both the West Wales coast, the Gower and the Brecon Beacons. What's not to like?
Finding somewhere to stay in Wales
Wales has plenty on offer – if you're looking for self-catering cottages, Google is usually a good place to start. For larger groups, GroupAccommodation.com has a lot of amazing properties.
Visit Wales' accommodation search is also a great resource.
Or, if you fancy living like a local, Airbnb is increasing in popularity across Wales – and there are some amazing Airbnbs in Wales. Click here to get £35 off your first booking.
Travel in Wales
Much of Wales is (fairly) served by trains and buses. Trains run through South Wales direct from London Paddington – and North Wales is well connected via Manchester and Birmingham.
Having said that, much of Wales is best explored by car (or bike, if you're feeling energetic). You'll be able to get off the beaten trail – just make sure you pack the sat-nav.