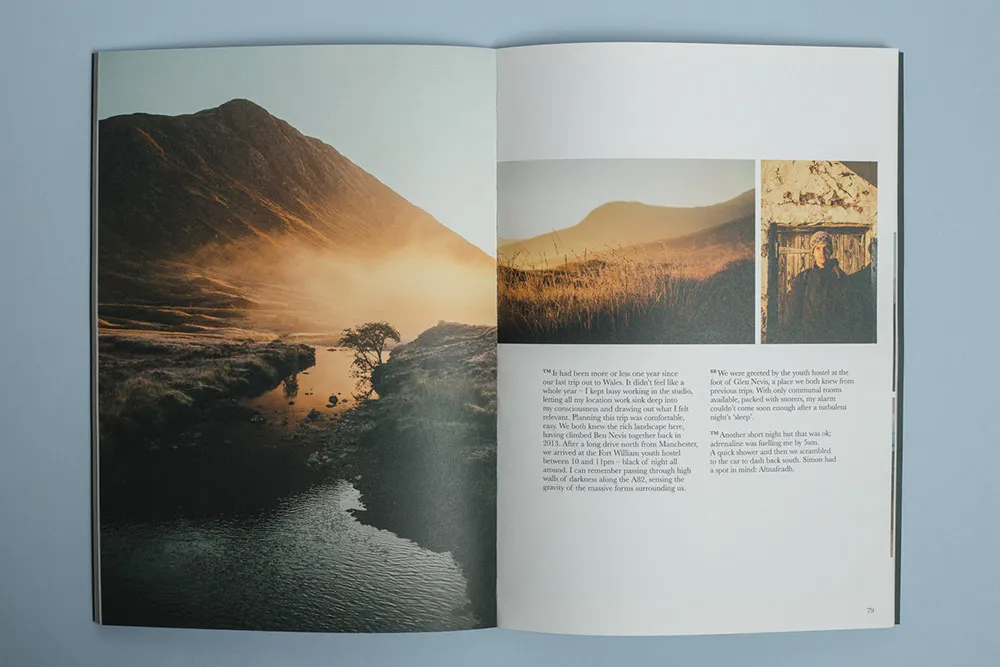 The Edges Of These Isles
The Edges of These Isles: A collaboration between artist Tom Musgrove and photographer Simon Bray, depicting seven landscapes across the British Isles using their respective mediums.
We loved the idea – and we had questions galore. Simon and Tom were more than happy to oblige.
The Edges of These Isles took the pair to all corners of the UK, with two Welsh locations featuring – the Brecon Beacons and the Gower Peninsula. The journey culminated in an exhibition in September 2016, a stunning book and a film (scroll to the bottom of the article to watch!).
Simon and Tom have been kind enough to give us a copy of the book to giveaway to our readers. If you'd like to get your hands on it, simply sign up to our newsletter. We'll choose a winner next week.

Tell us a little about what inspired the project. Why now? Why together?
Tom Musgrove: It was doing the three peaks challenge together that started it off really. After that trip we met up to talk about each others work as visual artists. We both wanted more from that experience of being in the landscape.
For me, why now? It has something to do with "awakenings", without wanting to sound too grandiose, I'm in my thirties now and I'm looking for answers relating to existence, politics, society. All that stuff you don't care about through your teens and twenties when you're just trying to get a job. So being an artist, this project is me stepping out, finding out where I fit and how I feel in this place. Together, because I value Simon, who he is and what he does, the differences and similarities are exciting.
Simon Bray: We met whilst attempting the three peaks challenge with a couple of mutual friends (we completed it with half an hour to go, although I did then fall asleep on the floor of the car park).
Through that trip we discovered we both shared an affinity for creating landscape work and we decided to take a trip to the Lake District, stay in a youth hostel, make some work and see what happens. We had fish and chips, a couple of pints in the pub, I got Tom up way earlier than he'd anticipated for sunrise, but it was magical and we immediately got excited about the next trip and it grew from there.
Have you ever worked alongside an artist/ photographer before in this way?
Tom: No, I haven't worked like this before – I haven't made work like this before either!
Simon: I'd not ever worked alongside another artist before, so it was a new experience for both of us. I think it took us a little while to get used to having each other around, it takes a certain amount of vulnerability to share your work with someone, but you barely ever have to let anyone see your process, the formation of ideas and creation of a piece with anyone.
Over time we were able to begin sharing ideas, thoughts and what we were working on. Our first means of sharing in that way was actually through music. We each would bring a stack of CD's for the car journeys, and we'd take it in turns to put different records on, which I think is a beautiful thing in itself. Sharing an album that means a lot to you that someone might hate, or fall in love with – until you press play you won't know!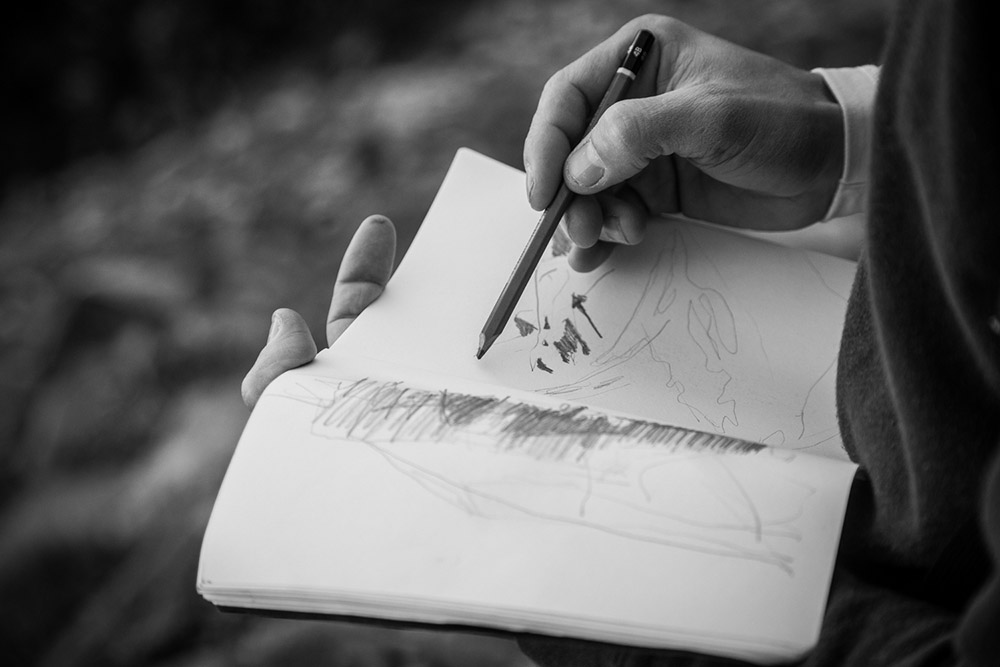 What was the biggest surprise of the trip?
Tom: I think actually finishing in time for the book and exhibition. Being surprised at how ready I felt when it was time to 'let go' of the work. Nothing was rushed and there are no fillers, so to speak, all the work is honest and true. That is my biggest surprise – along with the exhibition at the Whitworth.
Simon: I was very pleasantly surprised by the Brecon Beacons. Having never been before it really stirred something up in me!
We also got to drive through Swansea at 5am on a Saturday morning which was a treat, very surreal, quiet, like a movie set, quite strange! I'm presuming it's not usually like that? I think the biggest surprise for the project was that we got so much support and funding to make everything happen, we hadn't anticipated that others would be as excited about it as we were!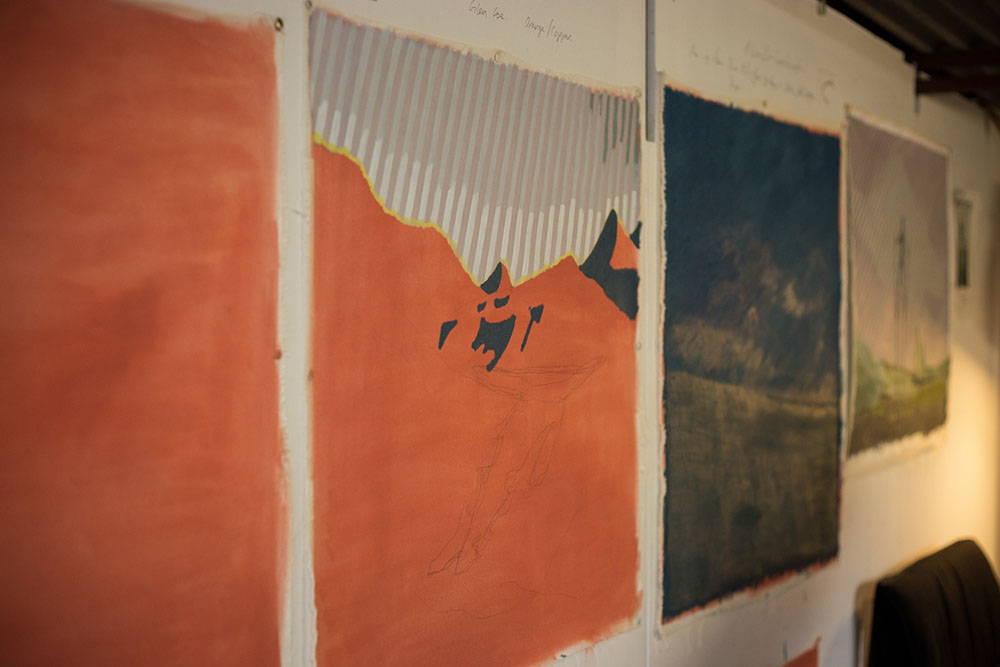 The project lasted for quite a while with big gaps between trips – how did the way you worked change and evolve over that time?
Tom: Oh greatly, everything changed, I think actually we can see in both our work as time goes on we are both learning how to put ourselves in the image, not literally of course, but I mean our own voice in the work.
For me, on location I would sketch, then back in the studio early on the final pieces would be pictorially very similar and deeply rooted in the sketches. For good reason too – they were what I was drawing inspiration from. But as the project developed I can see that the work gets more abstracted and a narrative of the trip is very present. For example the Northern Ireland sculpture with the two boys entering the abandoned quarry.
Simon: Well part of that was due to Tom's wife having their second child and both of us starting new jobs, but it did allow us plenty of time to reflect and develop the project as we went. My work as a photographer is in the moment, quite instinctive and reactionary, so compared to Tom, I can't do much artistic work in between trips.
I'm not really one for sitting on my hands and waiting around, so it gave me plenty of time to plan future trips, think about the making of the book, the film and do super fun things like applying for funding and emailing galleries!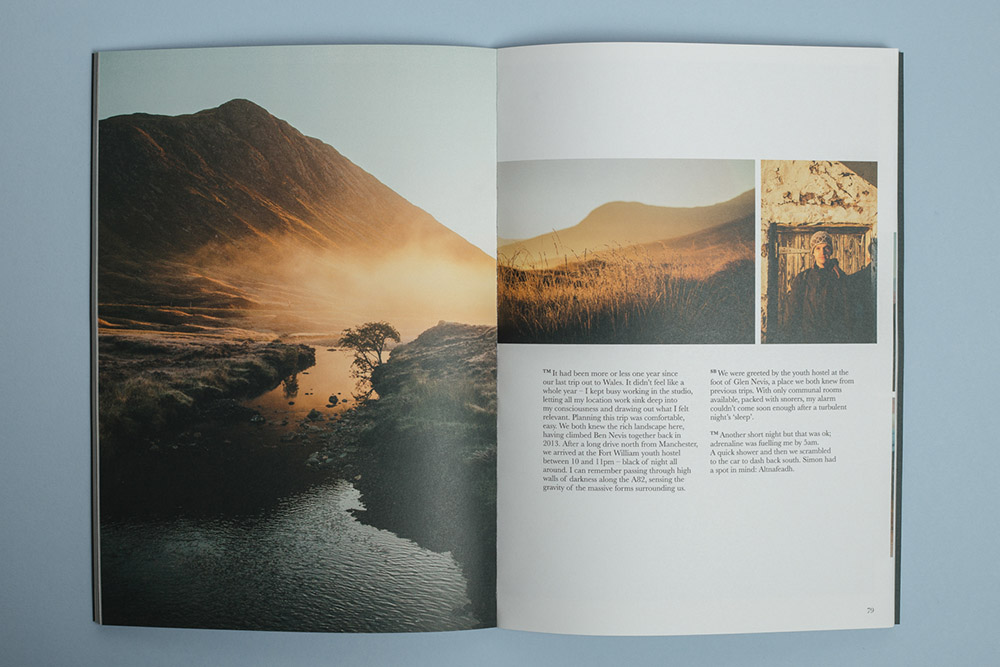 We can't not ask a question about Wales – what was your highlight of the Welsh parts of the project?
Tom: Oh goodness, well Wales was special in any case for the fact that we made two locations back to back. It was a very intense weekend of experiences, the darkness in Brecon at night and stillness in the air at Rhossili before sunrise and breakfast in the Mumbles. The highlight though was that sunrise at Rhossili, I'm still making paintings from that morning.
Simon: Well obviously Wales was by far the best place that we visited on our travels! For me, the Brecon Beacons was a real highlight, the combination of exploring a landscape I'd not encountered before with the movement of the light and weather on the day made for some really exciting photographs.
We also didn't really have a plan for the day, we could see the path to the top of Pen-Y-Fan, although we never saw it for the clouds, but we aimed in that general direction and that added a sense of ease, not having any significant expectations allowed us to work freely.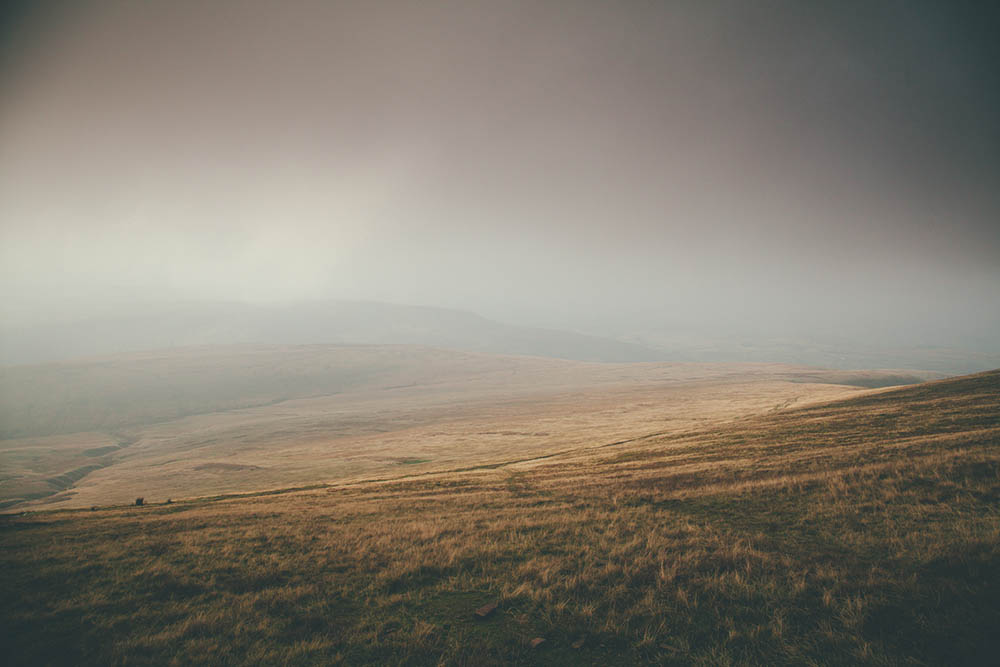 What's next? Do you plan to collaborate again?
Tim: Yes, lots more work to do! There will be new locations and new people inputting, we have some exciting ideas for deeper engagement with the project.
Simon: We've already discussed future locations within the UK to visit together, and once we've created work from those, who knows! We've learnt a lot through the creation of the book, documentary and exhibiting the work, not only about the project, but our processes and approach that we want to put into practice.
What equipment do you both use when out on a project/ shoot?
Tim: I take an A5 sketchbook with soft pencils, rubber and charcoal sticks/pencils. I have taken paint with me on a couple of occasions, though with having to move quickly and in bad weather this hasn't been that practical.
Simon: I try not to get too bogged down in equipment, so for most trips I tried to keep it simple, my Canon DSLR, and a Fuji X100S, plus a couple of filters and a tripod, although I'm less inclined to carry those around now, all the technicalities distract me from observing the landscape.
For the next trips I've changed it completely, I'll be taking a medium format Fuji GW690, and the new Fuji X100F, keep it simple!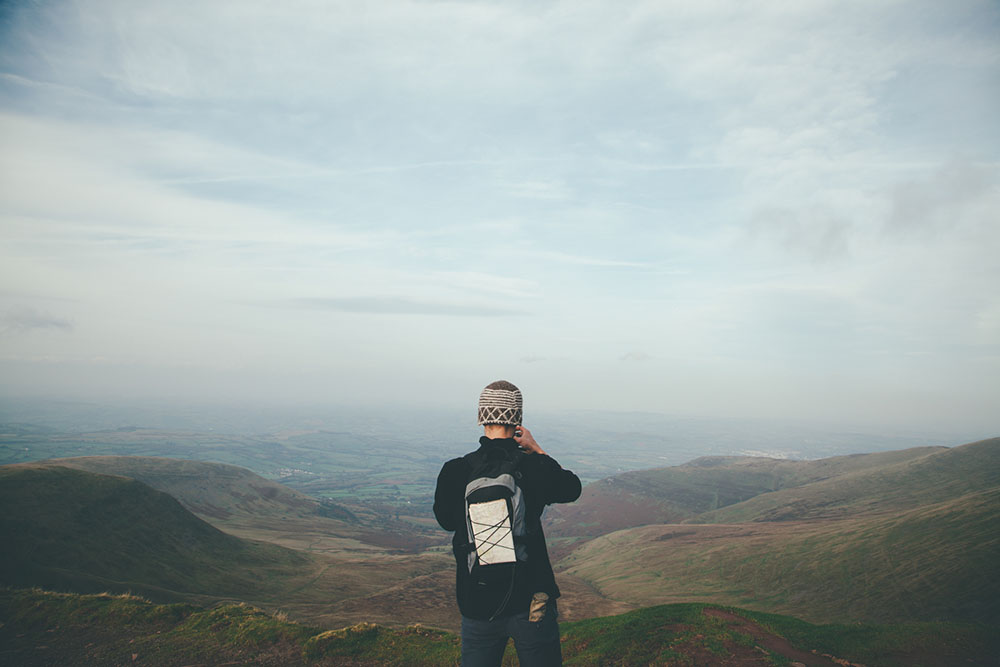 What would be your advice/ tips for anyone planning to get into landscape photography/ art?
Tim: Always take a notebook/sketchbook and something to write/draw with. Just start drawing what you see, and then if you want move onto drawing what you feel. You could start with notes, words if you're not confident sketching right away. It all starts with thought – what does this place make you think about?
Simon: We didn't do anything special, we literally just planned a trip to the Lakes together and it began from there. We had no idea it would evolve into the project it has with the book, film and exhibitions, so find somewhere to go with, maybe someone to go with and get exploring. It's really not complicated.
If you're struggling for inspiration, search for imagery that excites you, look on Instagram, find photography blogs like Another Place, books, publishers, groups like Inside The Outside, just find work that evokes some sort of reaction, ask yourself why, how would you do it differently and start from there.
Thanks both!
The Film
You can buy a copy of the book on the 'The Edges of These Isles' website. And make sure to follow the project on Instagram for more visual delights.
Looking for more great travel and adventure books? Read our guide here.