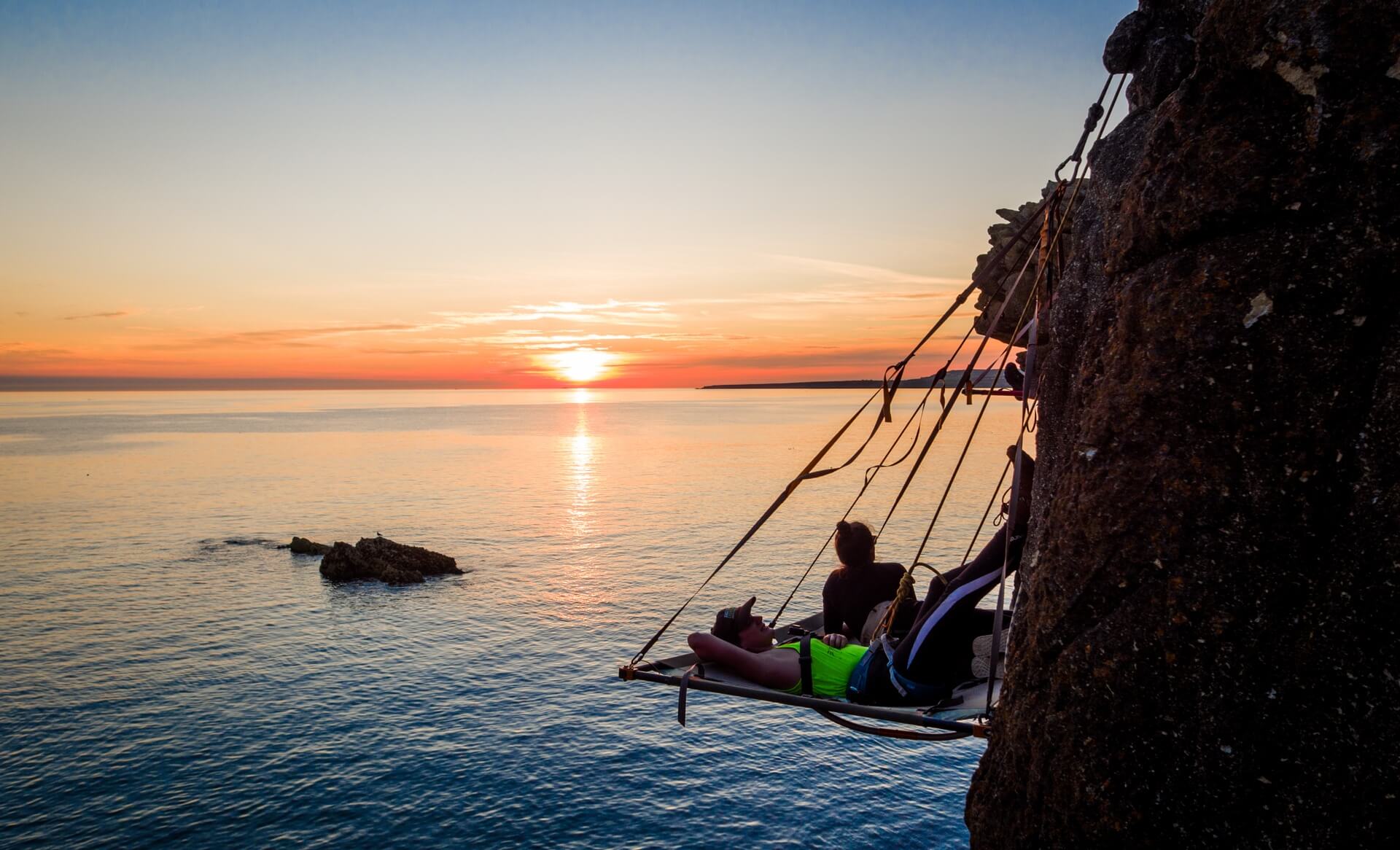 The Best Beach Campsites in Wales
So, you're planning a beach camping trip in Wales. Great decision! Wales is home to some of the most stunning scenery in Europe, making it an ideal destination for any camping enthusiast. Even better, Wales has 870 miles of coastline. The Welsh coastline is incredibly diverse with rugged clifftops, stunning bays, beaches, and estuaries.
If you're into long-distance walking, the Wales Coast Path is one of Wales' best long-distance walks, and it takes in all 870 miles. Whether you're planning to walk the coast path, or you're just heading for a camping holiday, there are some great camping options close to some of the most spectacular beaches.
The Best Beach Campsites In South Wales and Gower
South Wales has some truly stunning coastline, with the Gower Peninsula offering some of the best beaches in Europe. If you're traveling by train there are plenty of options, with train stations in most of the big towns and cities along the south coast. Equally, the M4 motorway provides easy access from Bristol and England.
Hillend Campsite, Gower Peninsula
The Gower Peninsula is home to some of the best beaches in Wales — and the good news is that many of them have campsites. Hillend Caming is tucked in behind the dunes of Rhossilli Bay, a beach that regularly ranks as one of the best in the world. The campsite is a short walk from both the beach and the nearby village of Llangennith which has a great pub.
Prices: From £20 a night for a standard tent pitch, more in summer.
Good to know: Hillend does not allow large groups or dogs.
Three Cliffs Bay Holiday Park, Gower Peninsula

Perched on the cliff above the famous Three Cliffs Bay, this coastal campsite is a stunner. The campsite is well established, with some great setups for glamping if that's more your vibe. This place gets booked up well in advance, so if you want those clifftop spots we recommend booking early.
Prices: From £34.50 for a large pitch, more for those clifftop spots
Good to know: Three Cliffs Bay campsite has great modern facilities, including a farm shop. No groups allowed.
The Three Golden Cups Pub Campsite, Southerndown
A pub with a campsite near the beach — what's not to like? Perched up on the cliffs above Southerndown you'll find the Three Golden Cups. It's not right on the beach, but it's a short stroll away and the pub proximity is obviously a bonus. They do accept group bookings, but it will need to be pre-arranged with the management. That means you likely can't have a rave there!
Prices: £25 per pitch for two adults.
Good to know: If you fancy glamping, there are furnished bell tents available for £120 per night.
Beach Campsites in North Wales
The Willows Campsite, Abersoch
The Willows promotes itself as a quiet sanctuary away from tourists' favourite Abersoch. The campsite caters to adults only (pets are allowed too), and is a great spot to explore the Llyn Peninsula beyond. If you're looking for something a bit different, their hobbit-hole like Eye Pod is also available to book.
Prices: Start at £26 for a pitch
Good to know: No kids allowed at this one
Bert's Kitchen Garden Campsite, Gwynedd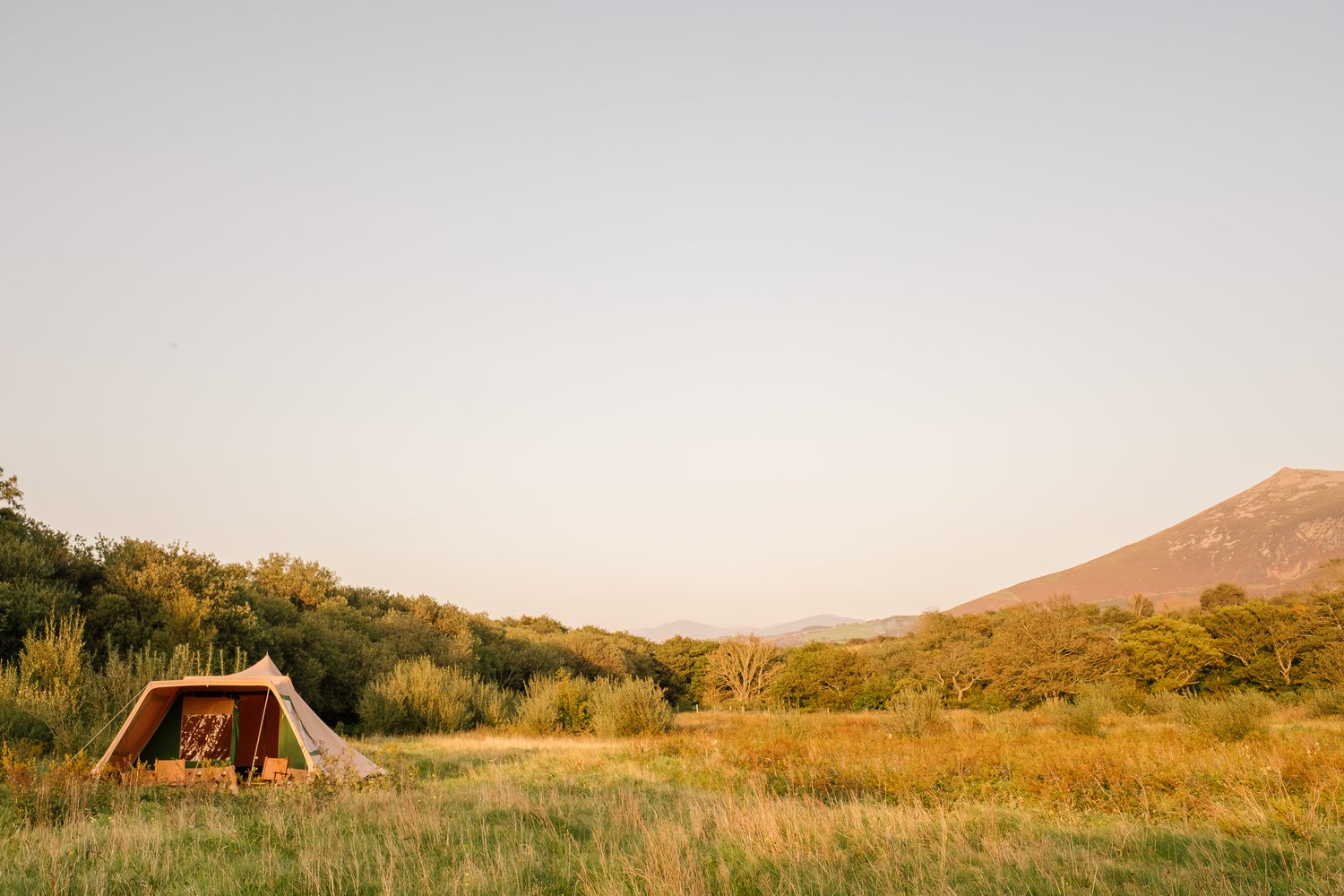 Bert's Kitchen Garden is a special spot. It sits at the foot of Yr Eifl with a short stroll to the sea. It's more of a "back to nature" experience than many of the more established campsites listed here. Pitches are mowed out in the meadow, giving you plenty of privacy and a really unique wild-camp style experience.
Prices: We couldn't work it out on the website!
Good to know: Bert's is a great spot to explore all that the amazing Llyn Peninsula has to offer.
Tyddyn Isaf, Anglesey
Tyddyn Isaf campsite is in an Area of Outstanding Natural Beauty on Anglesey (or Ynys Mon, in Welsh). With 20 acres to play with, the 5-star camping setup has amazing views down to the nearby Lligwy Beach, across to the Great Orme and to Snowdonia beyond.
Prices: From £20 a night for campers
Good to know: There is additional accommodation available onsite in holiday homes and cabins.
Beach Campsites in West Wales and Pembrokeshire
Cliff Camping with The Climbing Company, Pembrokeshire
Ever considered camping on a portaledge off the side of a cliff? Us neither. But it's probably the closest you can get to the sea while camping! The Climbing Company offer this amazing experience on the cliffs of Pembrokeshire, allowing you to enjoy an epic night above the waves.
Prices: £550, including a full day of climbing for two people
Good to know: Includes Supper, Breakfast, and warm drinks during your night on the ledge
Porthclais Farm, Pembrokeshire
Porthclais Farm has been voted one of the best campsites in the UK, and it's easy to see why. The campsite is in an amazing spot between St Brides Bay and Porthclais Harbour, offering excellent access to the coast path and beaches. With 24 acres of the campground to play with, there is plenty of space, and four of the five fields are dog friendly.
Prices: Tent pitches start at £8 per night
Good to know: Porthclais is great spot to stay if you're planning to visit some of the amazing islands like Skomer off the coast of Pembrokeshire.
Whitesands Camping, Pembrokeshire
If you're looking for a campsite right beside the beach, it doesn't get much better than Whitesands Campsite. The campsite gives you amazing beach access, so pick your moment to go catch some waves, explore the rockpools or enjoy a stroll along the sand.
Pricing: From £10 per person per night
Good to know: Whitesands don't take bookings, so you can just turn up — they provide updates on space on their website.
Celtic Camping, Pembrokeshire
Celtic Camping can be found on the stunning coastline near St Davids. The site has direct access to the Pembrokeshire Coastal Path, making it a great spot to rest your head of you're exploring this trail or the Wales Coast Path. The campsite itself has lovely views out over the Irish Sea, and there are amazing sunsets to be enjoyed.
Prices: £14 per person per night, dogs £3
Good to know: Celtic Camping also has group accommodation and bunkhouses available onsite for those not keen for a night under canvas.
Rhosson Ganol, Pembrokeshire
Sat right on the western tip of Wales (it's the most westerly campsite in the country) Rhosson Ganol has amazing views out to Ramsey Island. This dog-friendly spot is open throughout the summer, with pitches for tents and campervans, including electric hookups. You're unlikely to find many campsites in the world with better views that this one (with the exception of Three Cliffs Bay below!)
Prices: From £12 a night per adult in the peak season
Good to know: Rhosson Ganol doesn't take large youth groups, or allow campfires. BBQs are all good!
Camping in Wales FAQs
Can I camp on the beach in Wales?
In a word, no. Wild camping on most beaches in Wales is not permitted. If you do plan to camp on a beach in Wales ensure that you abide by the wild camp code and leave no trace.
Are campsites in Wales dog friendly?
This varies from campsite to campsite. If you're planning to take your dog camping with you it's always worth checking with the campsite before you arrive.
Where are the best group campsites in Wales?
Many campsites in Wales don't accept groups. If you're looking for campsites that accept groups, it's worth looking at specialist group camping websites.
---
Imagery: Crown Copyright.