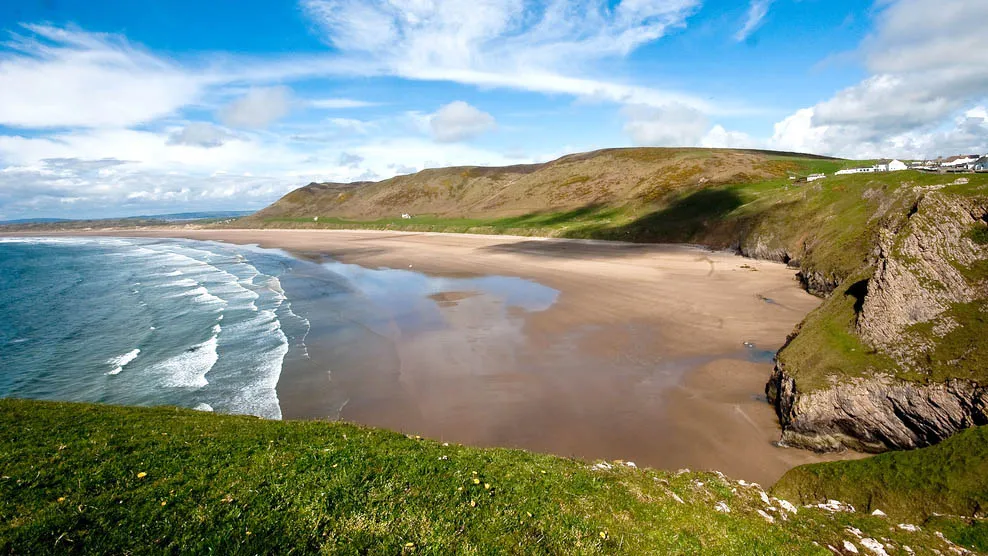 The Best Beaches in Wales 2021
Wales' 750 mile coastline is home to some of the most beautiful beaches in the world. And that's no exaggeration. Keep reading for some of the best beaches in Wales.
As you'll see below, the Welsh beaches have been recognised in countless global rankings and awards. Not bad for a country of only three million people. In 2012, the Wales Coast Path opened spanning 870 miles around the Welsh coast. For us, a great beach isn't about access to an ice cream van or a deck chair (although a couple below can provide both!), it's about amazing scenery and space to explore.
So, whether you're looking for long walks, water sports or a beach all to yourself, here are ten of Wales' best beaches:
10. Porth Iago, Gwynedd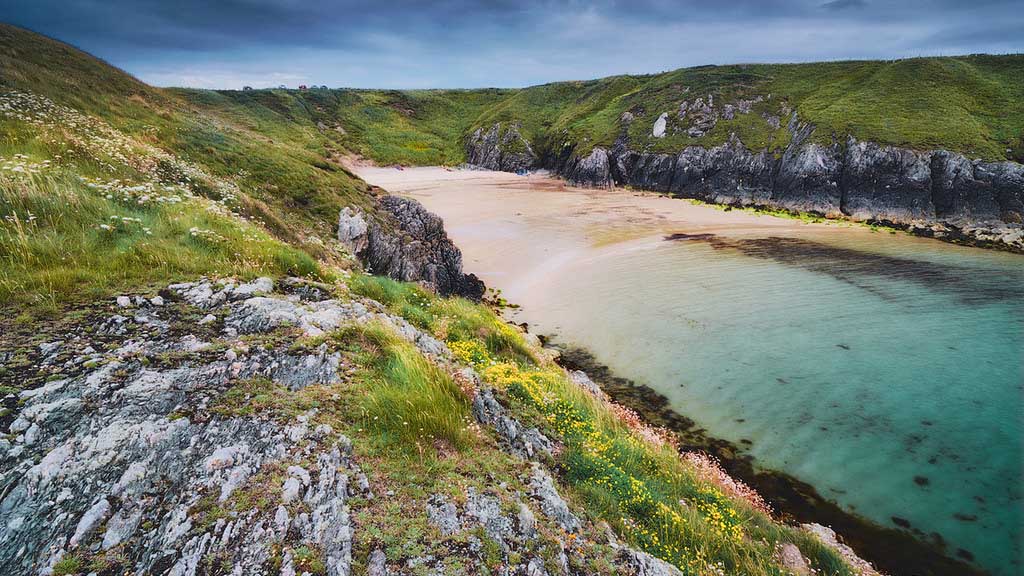 North West Wales' Porth Iago is a bit of a hidden beauty.
It's white sands and clear waters make it a great spot for a swim – or you can just kick back and enjoy the view. You'll need to park at the nearby farm (there's a small fee).
9. Southerndown/ Dunraven Bay, Bridgend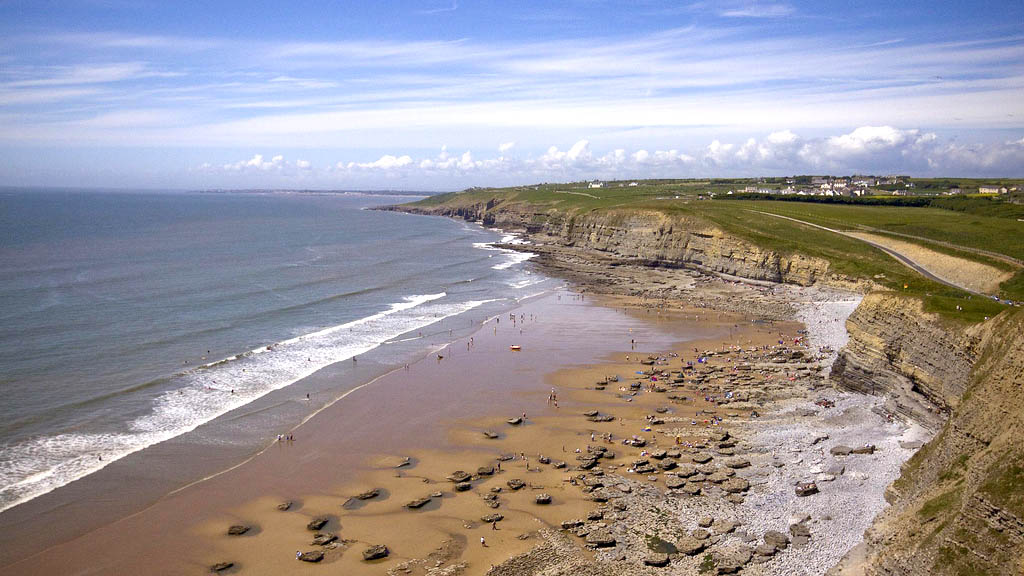 Dunraven Bay isn't that well known, but it should be.
The cliffs around Southerndown, the nearby village and headland that separates the two beaches, are stunning. The sedimentary rock makes the whole Glamorgan Heritage Coast pretty spectacular – Nash Point (just down the coast) is also well worth a visit, check out this stunning shot from Samuel Ryan to see why.
8. Llangrannog, Ceredigion
Llangrannog is a beautiful spot – and if you went to school in Wales, chances are you'll have been on a school trip to the Urdd camp.
The beach is a great place to catch a sunset (see above) – and the array of great cafes and pubs on the seafront mean you won't be going hungry.
7. Freshwater West, Pembrokeshire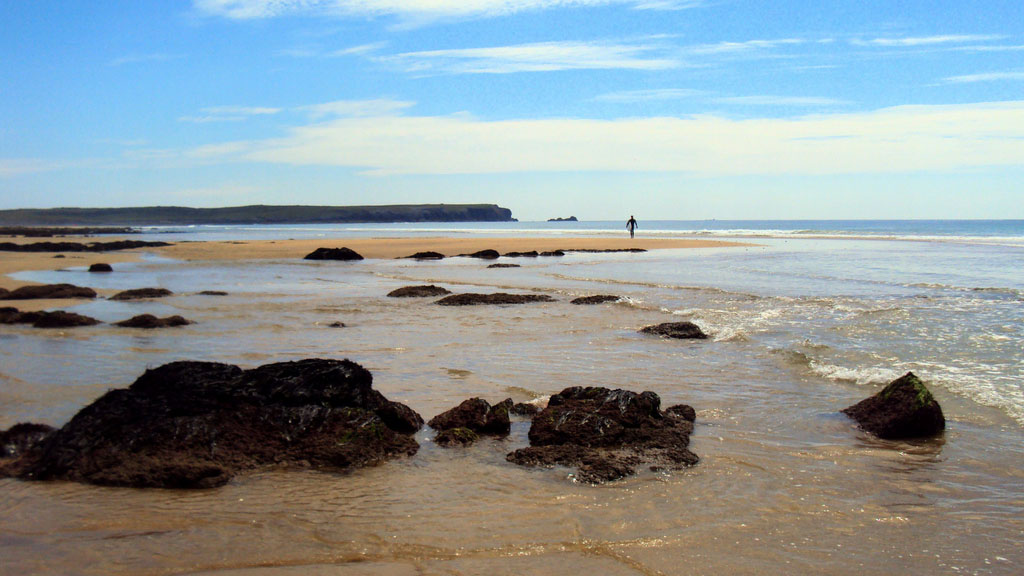 If you're looking for beaches, you can't go far wrong with a visit to Pembrokeshire.
It's the UK's only entirely coastal National Park with over 250 miles of cliffs, beaches, harbours and coves. Freshwater West is one of our favourites – it's great for a surf.
6. Tenby, Pembrokeshire

No list of Wales' best beaches would be complete without Tenby.
The town is surrounded by beaches – and it's within a short drive of many more. So if you're looking for a bit of Welsh history, a great town to explore and beaches galore, Tenby is a winner.
5. Three Cliffs Bay, Gower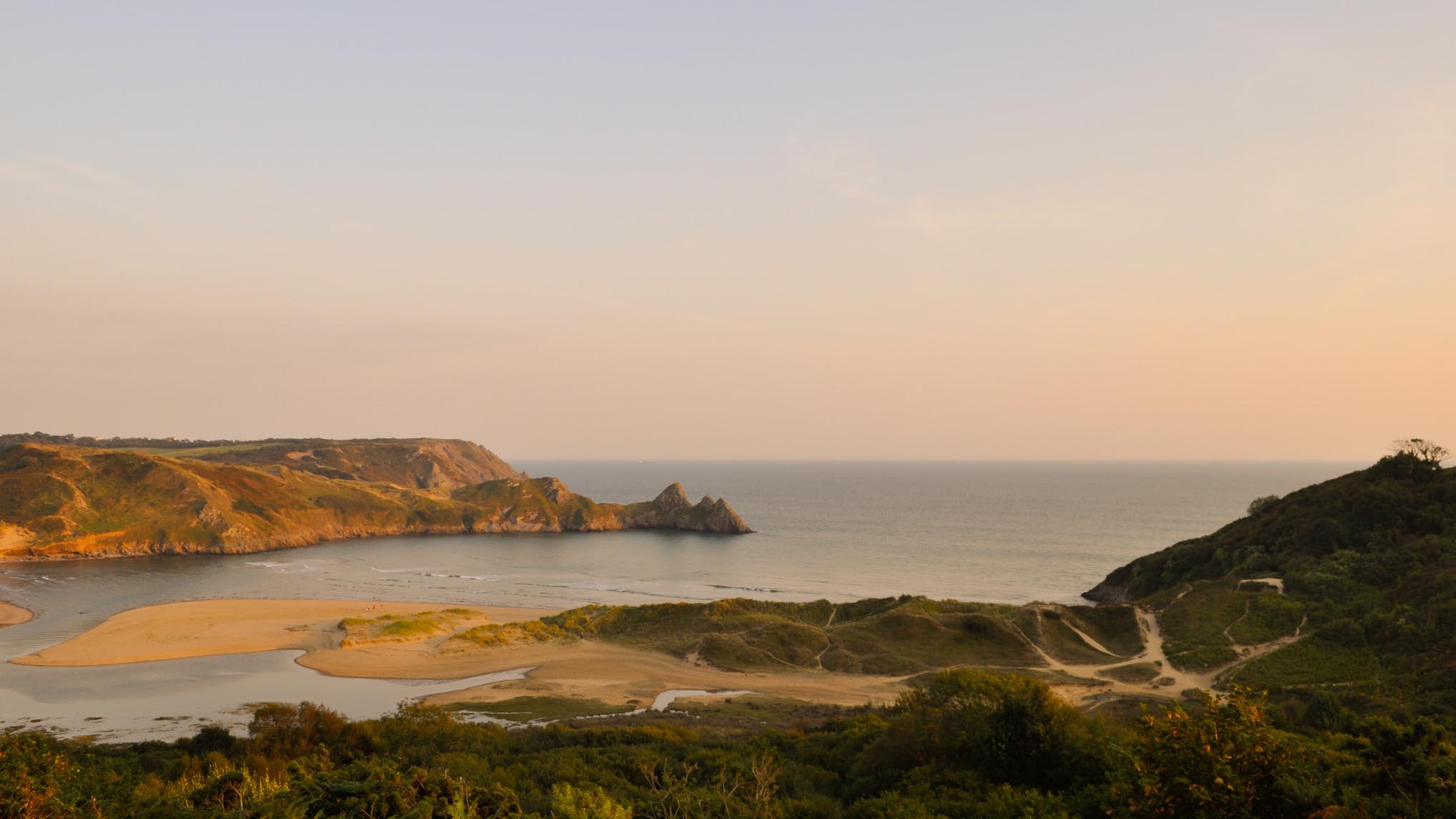 The Gower Peninsula is a strip of incredible beauty sticking out of the South coast of Wales. (Look at it on a map, you'll see what we mean).
Three Cliffs bay is one of many great beaches (keep scrolling for another!) – and if you're feeling adventurous you can walk many of them in a day.
4. Barafundle Bay, Pembrokeshire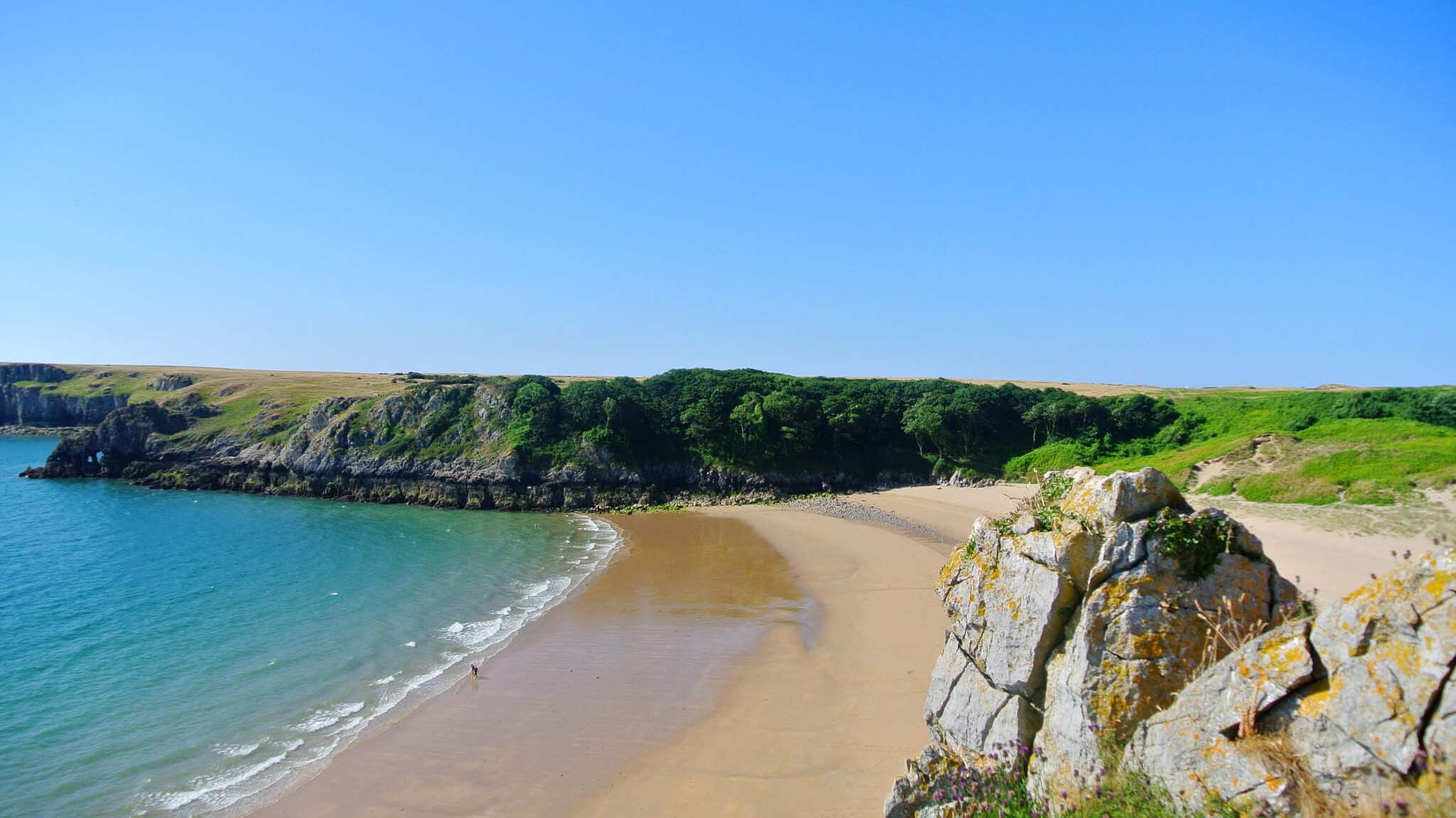 Barafundle Bay, on the Stackpole Estate, has won accolades galore.
Plus, Country Life have voted it their picnic spot in the past (is that a good thing?!). For us, the best thing about Barafundle is that it feels almost completely cut off from the outside world. There are no facilities, and on a sunny day you could almost believe you're on a desert island.
Many would argue that this is Wales' best beach…
3. Mwnt, Ceredigion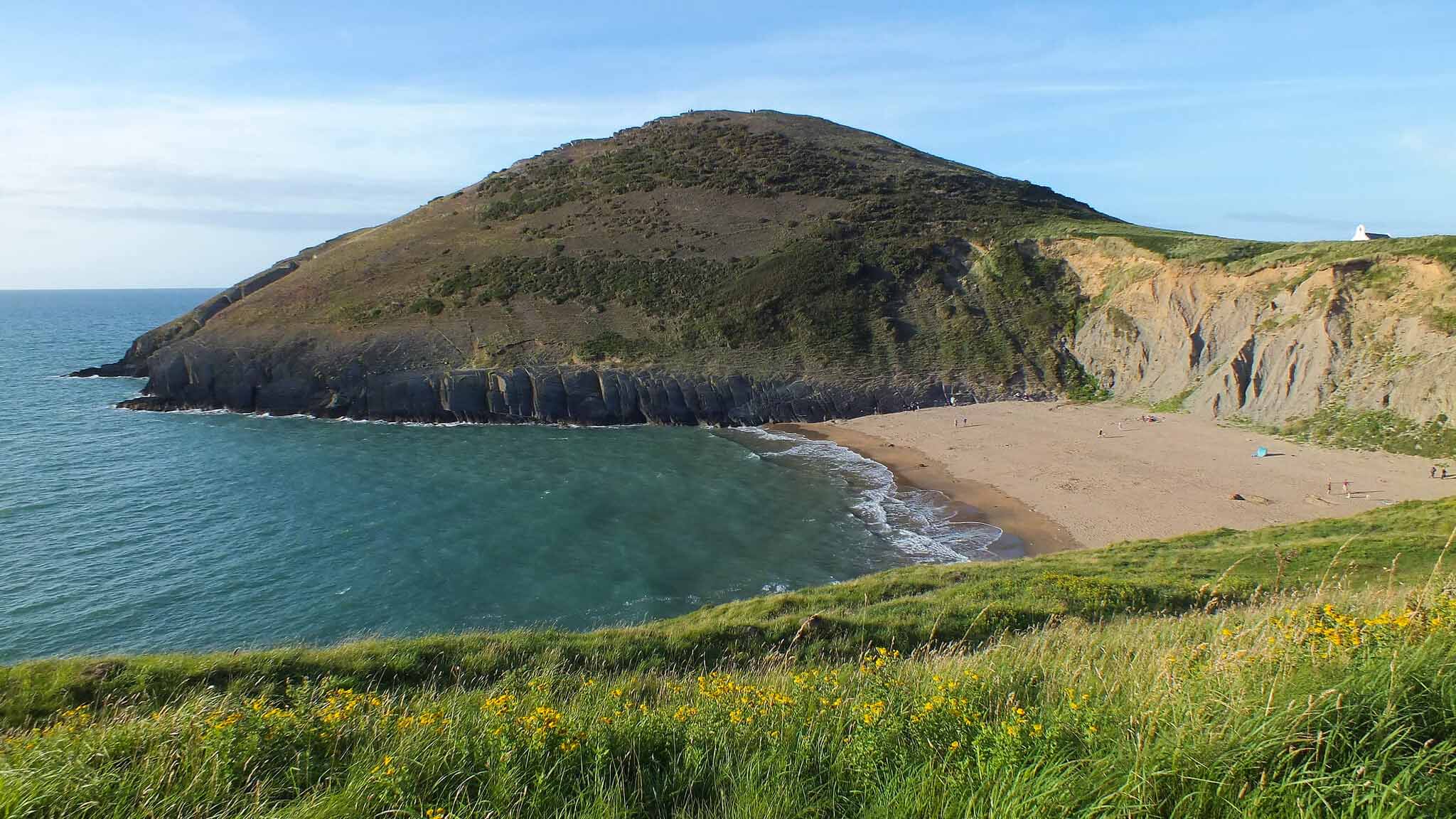 Mwnt is a secluded beauty.
Managed by the National Trust, if you visit at the right time of year you might just spot dolphins, porpoises – or even a basking shark.
On the cliff above is the beautiful little 14th century church (spot it in the picture above!), which you can also visit.
2. Marloes Sands, Pembrokeshire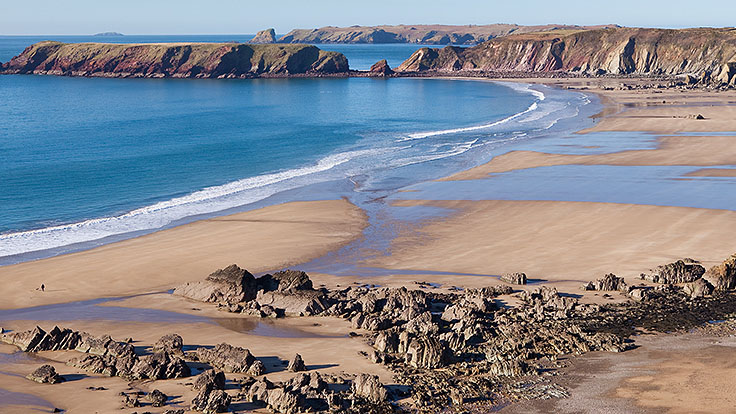 To get a bit of perspective on this one, spot the man and his dog bottom left.
Marloes Sands is as dramatic as it is huge. For the geology fans out there there are some stunning cliffs and rock formations – and at low tide there's a whole load of beach to explore.
1. Rhossili Bay, Gower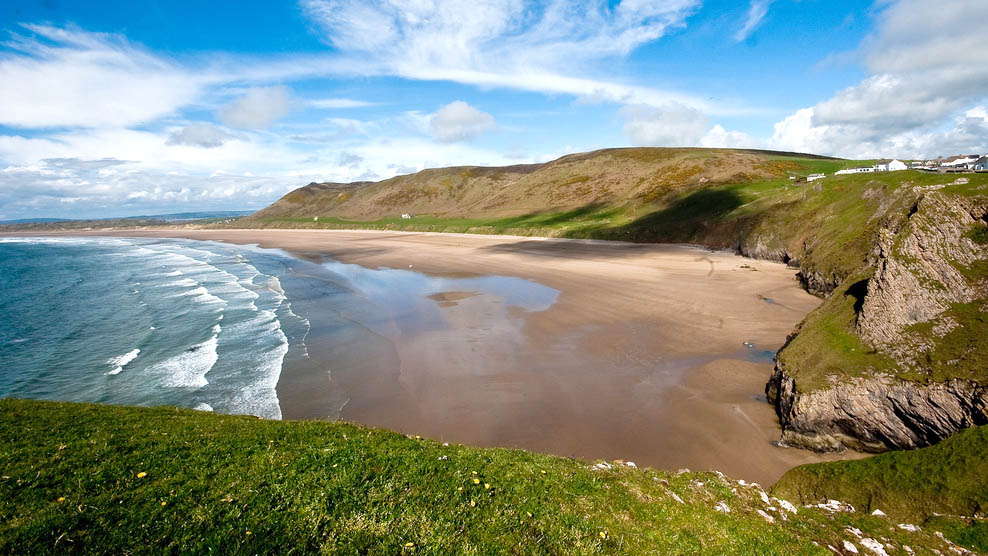 Where else?
Yes, it ranks near the top of almost every list of Wales' best beaches, but Rhossili has a bit of everything. For one, it's huge. There are over 3 miles of beach to wander on. You'll find sand dunes to explore, cliffs to clamber on – and if you want to get in the sea it's one of the best surf spots in the UK.
There's a campsite for those who fancy a night under canvas – and if you're after a pint, the Kings Head in Llangennith is one of our favourite pubs in Wales.
So, next time someone asks you where the best beaches in the UK are – send them here.
Enjoy!
---
Where's the best Welsh beach? Let us know in the comments – or tag us in your shots on Instagram using #DiscoverCymru.
Or, if you fancy taking a stroll along ALL of the best beaches in Wales (and more!) – check out our guide to the Wales Coast Path.