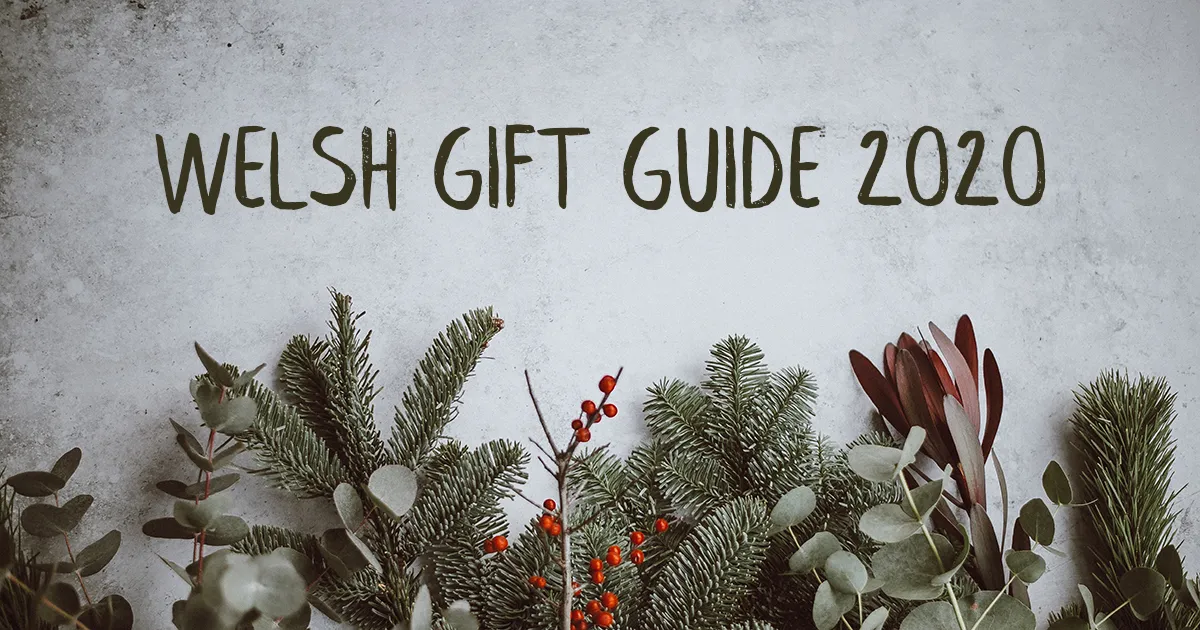 Shop Local: Welsh Christmas Gift Guide 2020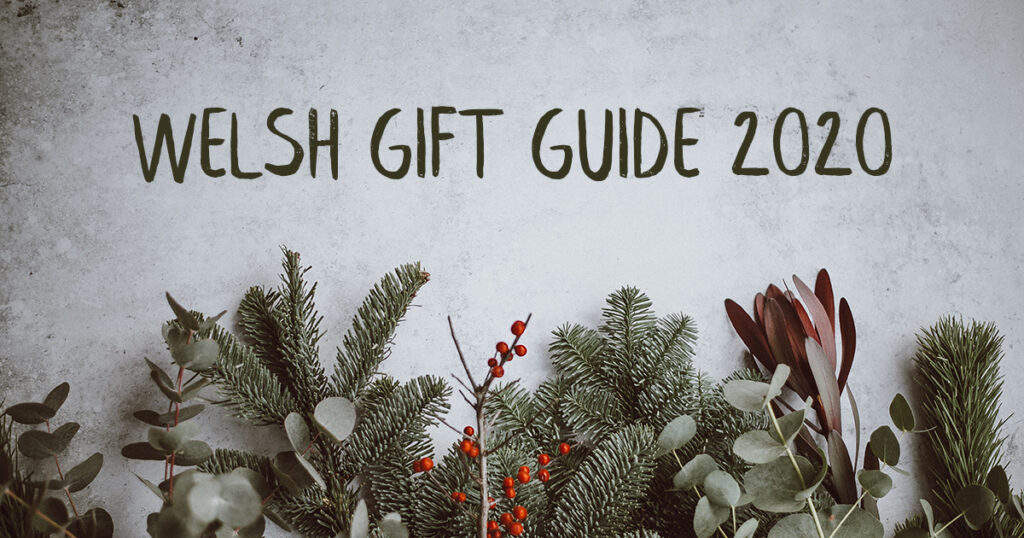 2020. What a year, eh? And Christmas is rolling round already. Small businesses have been doing it tougher than ever this year — and so we're back with another instalment of our Welsh Christmas Gift Guide.
We've said it before, and we'll say it again. We're not about this big brand black Friday bullsh*t.
Here's the black Friday deal we want to make with you: for every £ you spend at Amazon this Christmas, spend two more at a local business. When you spend money with a local business you put money back into your community — and you put a smile on someones face, rather than another dollar in a billionaire's pocket.
So, this Christmas, support Welsh brands, support your local makers, order food, drink and the Xmas pud from a small business.
Some of the below you saw last year, some of them are new. We're going to keep building this list each year. We also launched Siop Local over on Instagram — an account dedicated to supporting small businesses in Wales all year round. Follow along here.
Here's what we've got for you:
Something we've missed? Let us know.
Boozy Gifts
We'll start with the hard stuff, because it's the party season. There are countless independent drink companies cropping up in Wales. Here are some of our favourites at the moment:
In The Welsh Wind
In The Welsh Wind is a small distillery in West Wales' Cardigan Bay — they make amazing bespoke spirits in their copper still "Meredith". On sale right now on their website you'll find a Welsh Cake Gin — and we've heard rumours of Bara Brith edition. More info here.
Purple Moose Brewery
We had a heap of comments about Purple Moose when we put the call out for ideas last week — beautiful beers, brewed in Snowdonia. With everything from an IPA to a 'Chocolate Moose' on offer there's sure to be a beer for every taste. You can order online, or pop in to see them at their brewery of beer shop in Porthmadog.
Dinorwig Gin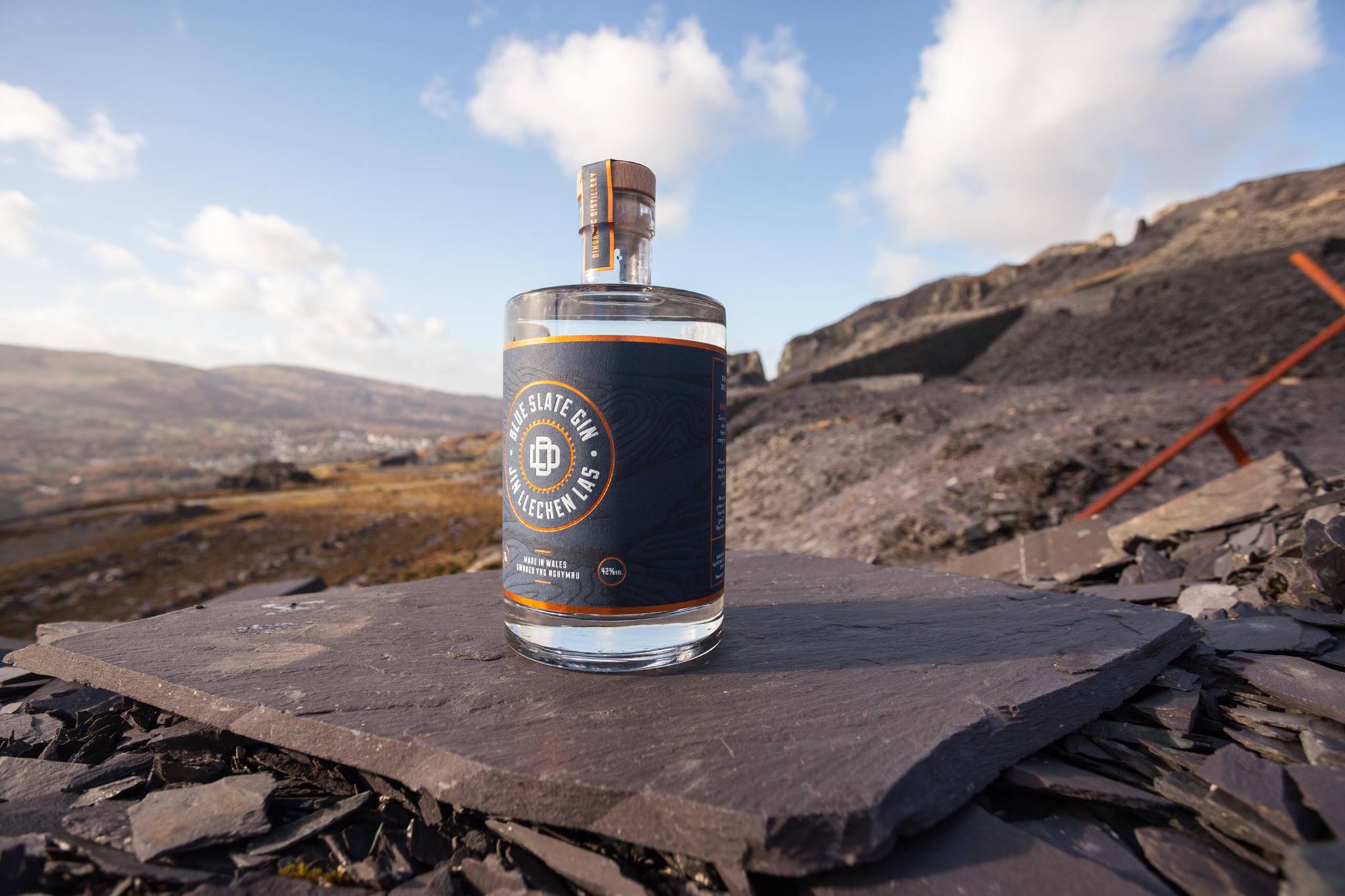 This gin comes from a tiny distillery hidden away in the slate quarries of, you guessed it, Dinorwig. It's made using botanicals that thrive in the uncompromising North Wales landscapes — coupled with local mountain water it makes for a beautiful taste. Meet the team over on the website.
Silver Circle Distillery
Home of the Wye Valley Gin, a Damson Negroni — plus a bunch of other great spirits, there's a lot to love about this creative bunch. You can order them all online via their website here.
---
Clothing and Adventure Gear
There are so many great clothing and adventure Welsh brands coming through — and we love that so many of them are focussing on giving back to the environment and staying away from fast fashion.
Lovaine Store
We're big fans of the ethos behind Lovaine's store:
Born and raised from salt and sand, off the coast of West-Wales. Inspired by those who don't just follow one path.
And there creations are brilliant too. Check them out here.
Antur Supply Co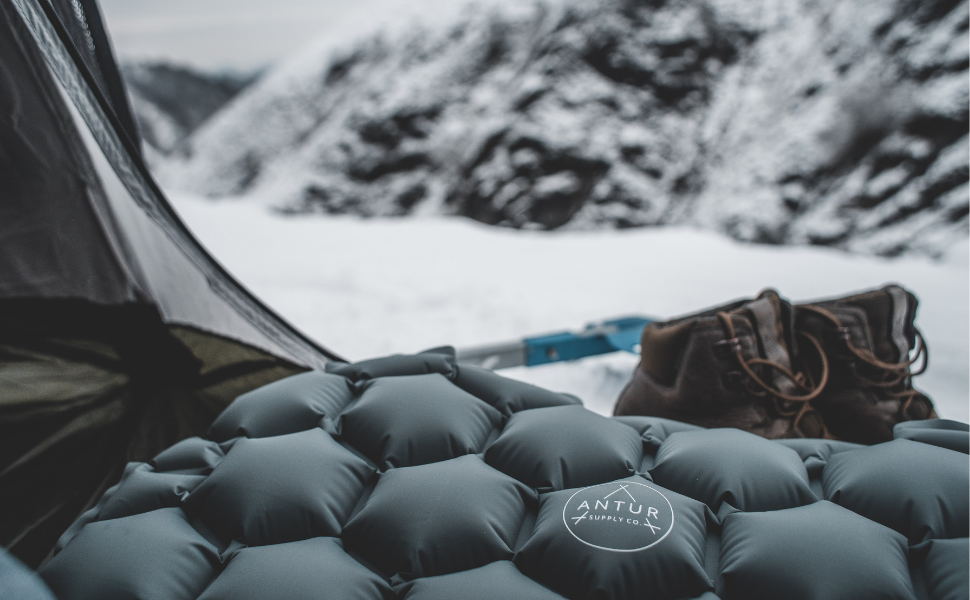 Did you know antur means adventure in Welsh? Now you do. The North Wales based company supply some awesome lifestyle essentials — including their brand new insulated water bottles and their sleeping mat that packs down super tiny. Check them out.
Eightry
Eightry was created with sustainability and environmental issues at its core. Using sustainable high-quality materials, the idea is to produce amazing products with the earth benefiting.
With each purchase, a tree is planted. Go make yours.
Welsh Girl, Hay-on-Wye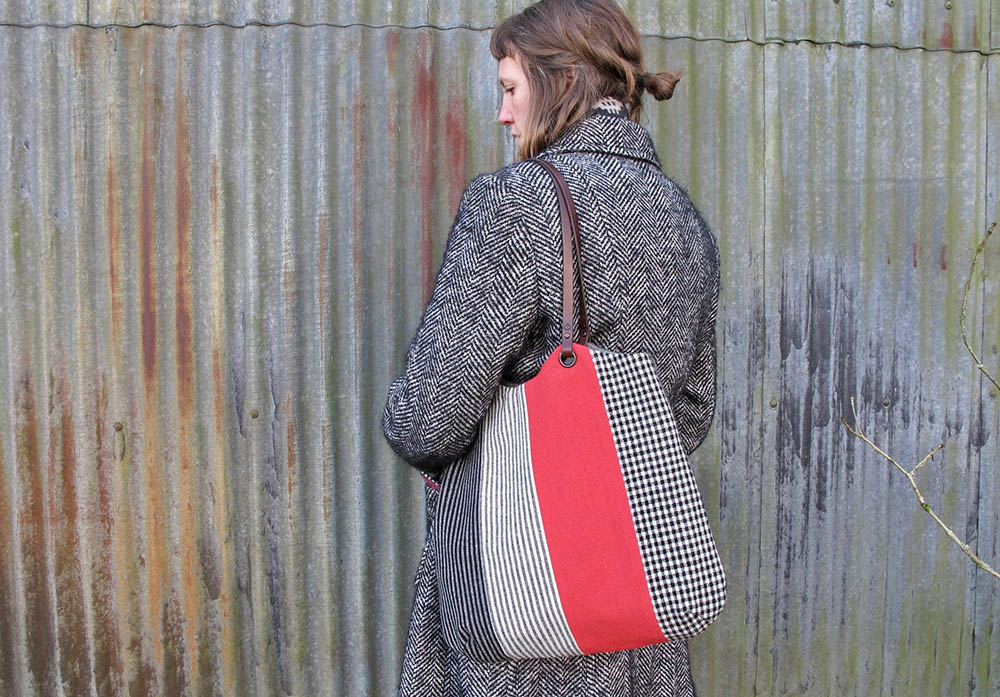 'Modern Welsh Heritage' — that's the essence of Welsh Girl Hay's brand. And we're big fans.
After 25 years in London, Julie returned to Wales in 2014 to realise a long-held dream of exploring traditional crafts, sewing and Welsh textiles. Her ponchos, cushions, scarves and tote bags are true slow fashion — they'll last a lifetime, as will the lovely designs. More here.
Snowdonia Clothing
We love the above! The newly launched Snowdonia Clothing will plant a tree for each order placed before the 3rd of December.
---
Printed Gifts
From prints to Christmas cards to calendars — we've found our favourites. All of the below can be bought online, but make sure to pop into your local stores to check out local creators too!
Discover Cymru Calendar 2021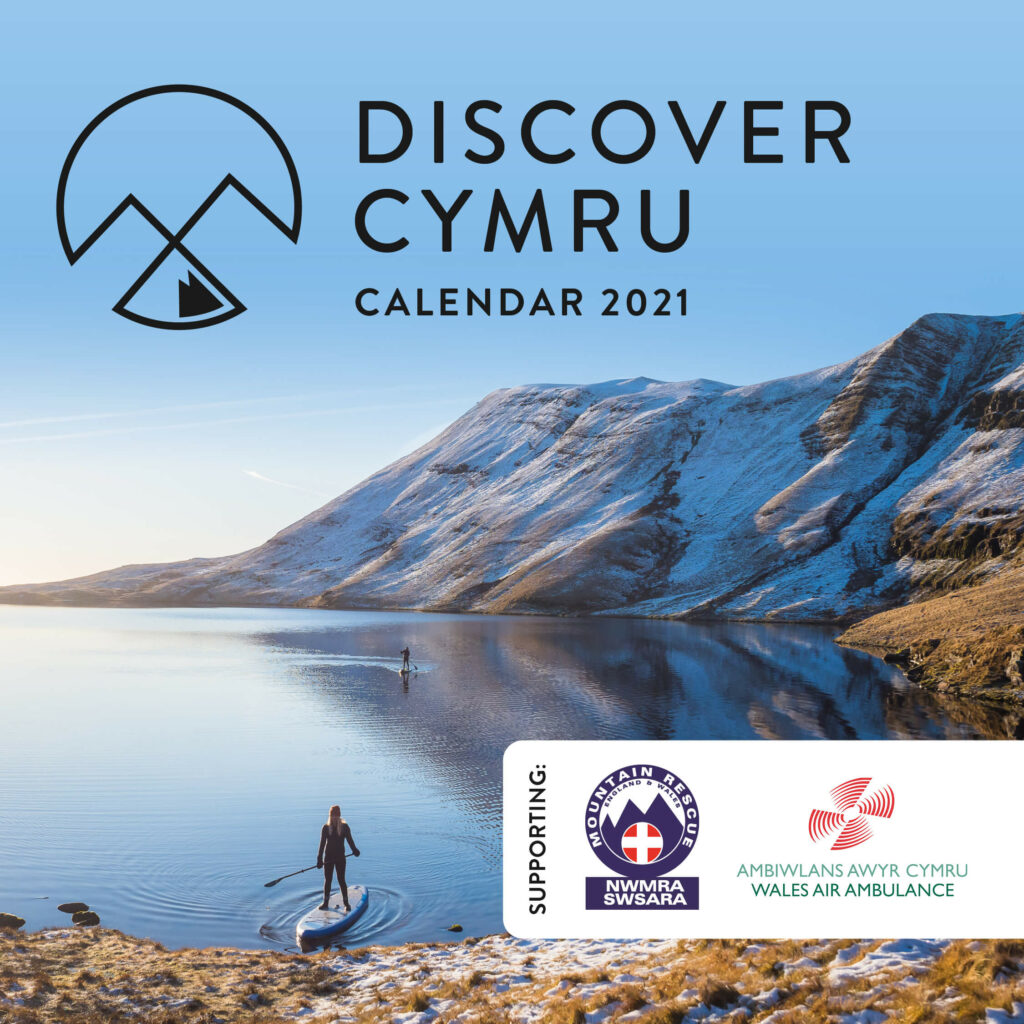 Our Welsh landscapes calendar is back — and it's as beautiful as ever. Featuring twelve amazing images from across Wales, all profits are being donated to two fantastic charities; Wales Air Ambulance and Mountain Rescue.
It ships worldwide! Order yours here. It will also be available from Found Gallery in Brecon from early December.
Tom Frost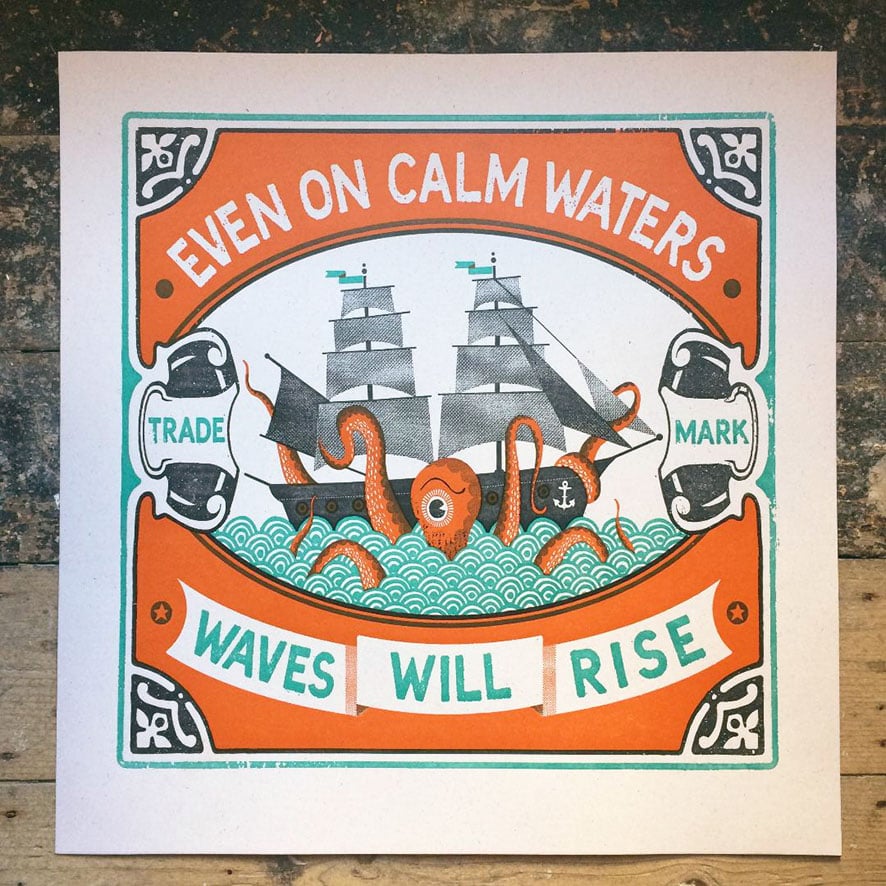 We love Tom's work! Check out his website for his prints created from Carmarthenshire.
Prints by Marian Haf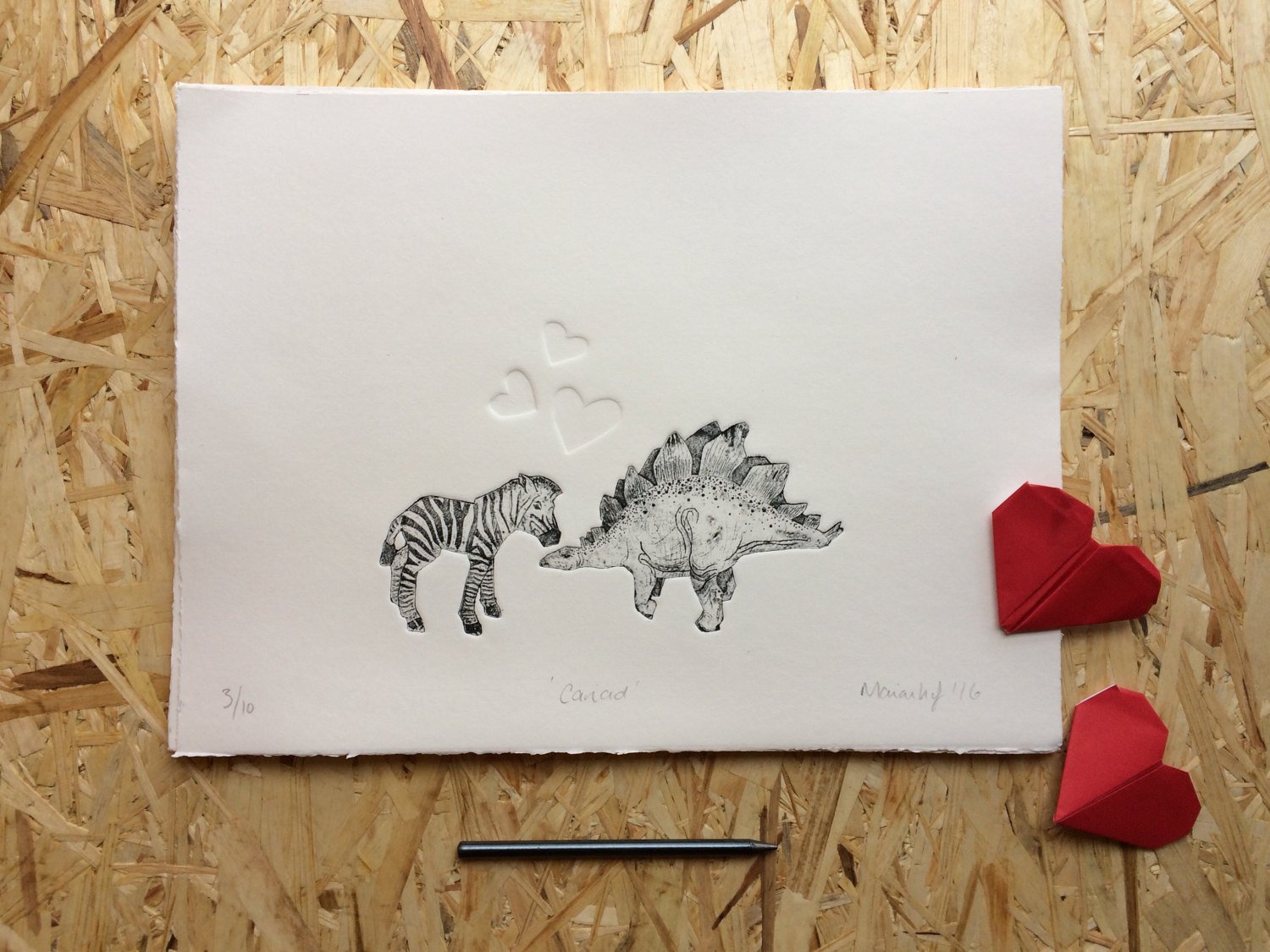 West Wales based Marian Haf makes some amazing prints that would look good on anyone's wall. A lot of her prints can come personalised — so if you're after a 'T-Rex in the Rain' (one of my personal favs) with a personal touch she can make it happen.
Check out all her work over on Etsy.
Cardiau Cymraeg
Cardiau Cymraeg is a Welsh greeting cards and prints shop based in Swansea.
Their main aim is to enhance the variety of Welsh cards and products available to the people of Wales. Each of their cards and prints are illustrated by hand, designed with care, and made with love. They don't use any plastic wrap in their packaging and each of the cards and envelopes can be recycled.
Now you know where you're getting your Christmas Cards.
Found Gallery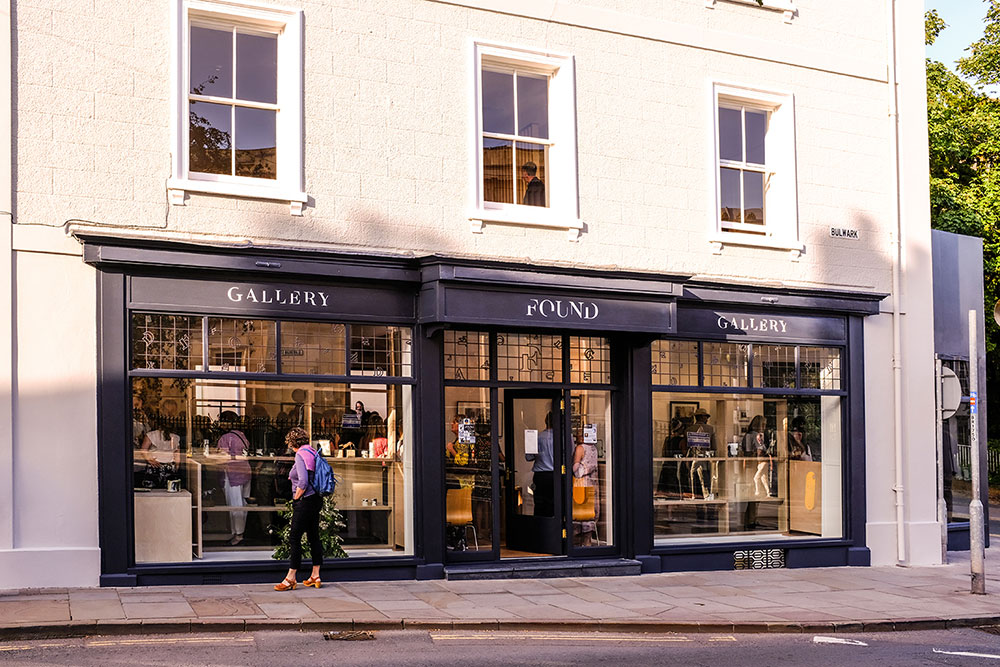 If you're in Brecon over the next few weeks (lockdown allowing), make sure to stop in at the beautiful new Found Gallery. Now showing their Christmas exhibition — there is beautiful work from photographers, artists and makers from right across Wales. And lots of lovely gift ideas too.
Pop in!
---
Food
This has to be the hardest category for us to shortlist. THERE IS SO MUCH GOOD FOOD! Thanks for the endless list of suggestions you sent our way.
The Little Welsh Chocolate Company
What's Christmas without chocolate? With plenty of cracking flavours, and even a vegan chocolate range, The Little Welsh Chocolate Company is the perfect way to top up the cocoa supplies.
You can get your chocolate fix over on their website.
Black Mountain Smokery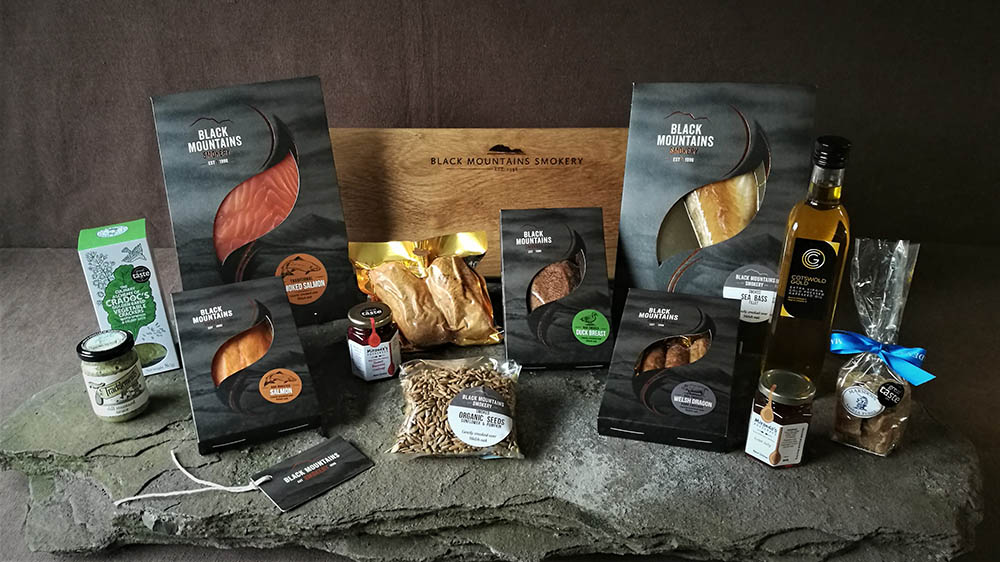 Based just outside Crickhowell, the family run Black Mountain Smokery pride themselves on producing some of the UK's finest, freshest smoked goods.
If you're looking for beautiful smoked salmon or a Christmas ham with all the trimmings to go with then look no further. If you're reading this from further afield, the good news is that it's all available to order.
---
Crafts
There's no shortage of amazing craftspeople in Wales — a big thanks to those of you that sent some of them our way.
The Little Welsh Farm Co.
Little Welsh farm Co. Is a small Welsh Lavender farm and website bringing you sustainable and ethical products by small Welsh and UK based makers.

Check out their website and products here.
Skratch Studio
Prints and ceramics from Kate's studio in South Wales. How cute are those penguins? If you want to bag something from Kate's store you'll have to be quick — she sells in batches every few weeks — and always sells out!
Find out more here.
The Whittlings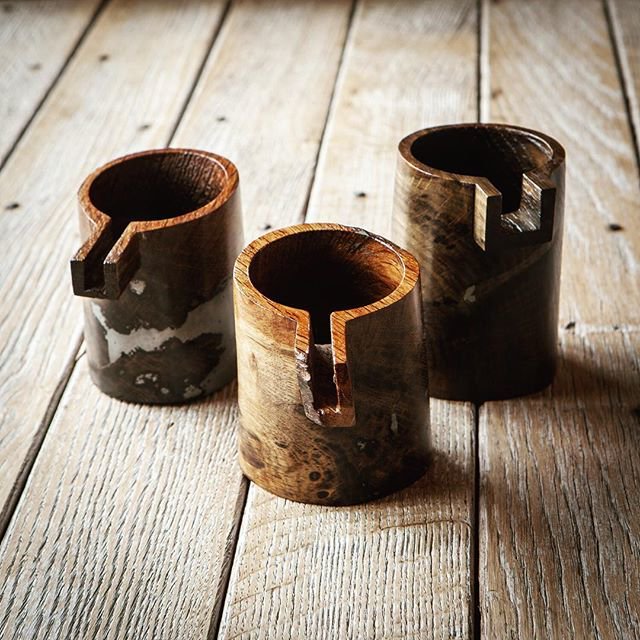 Based in North Wales, David creates beautiful products from wood. Many of them have amazing stories like the Mine Oak Collection shown above, which were created from oak recovered from North Wales' slate mines.
You can order online from the website, or if you'd like to have a go yourself, David offers 1-on-1 workshops — book here.
Made by Greig
Greig is a designer and creator of unique bespoke lighting and other lovely things based in the Black Mountains. If you're looking for something a bit different for that Christmas lighting, check out his store on Etsy.
Made by Bill
Made by Bill makes small runs of our own objects and furniture and take on private commissions if you want something a bit more bespoke. Everything is handmade in their workshop in Wales using local native timbers.
---
Beauty and Grooming
Myddfai Trading Company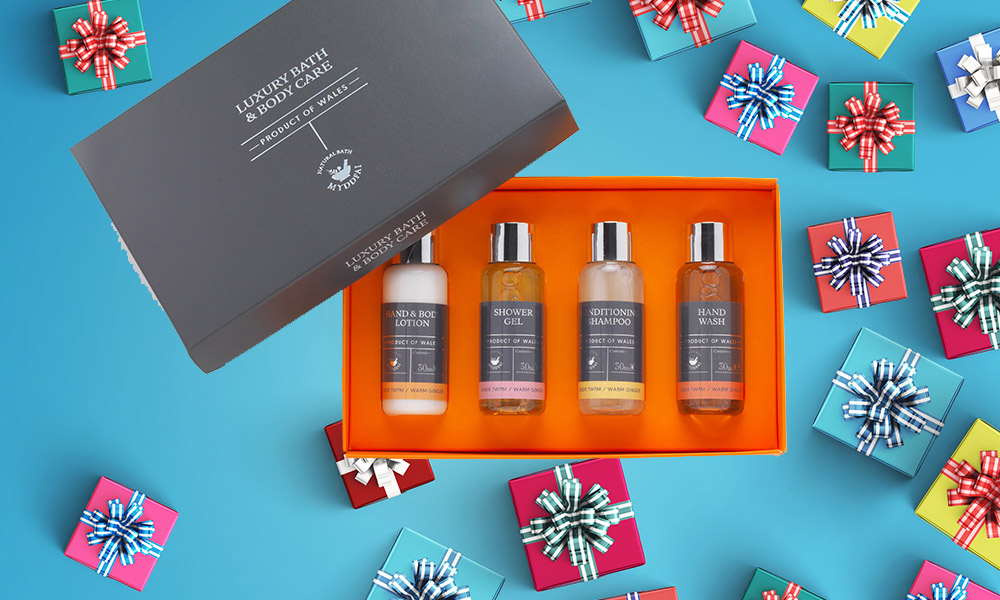 Myddfai is a social enterprise and producer of luxury toiletries and gifts with a social conscience. Offering employment opportunities to their local community, profits are reinvested in rural regeneration within the surrounding area.
Old Faithful Beard Oils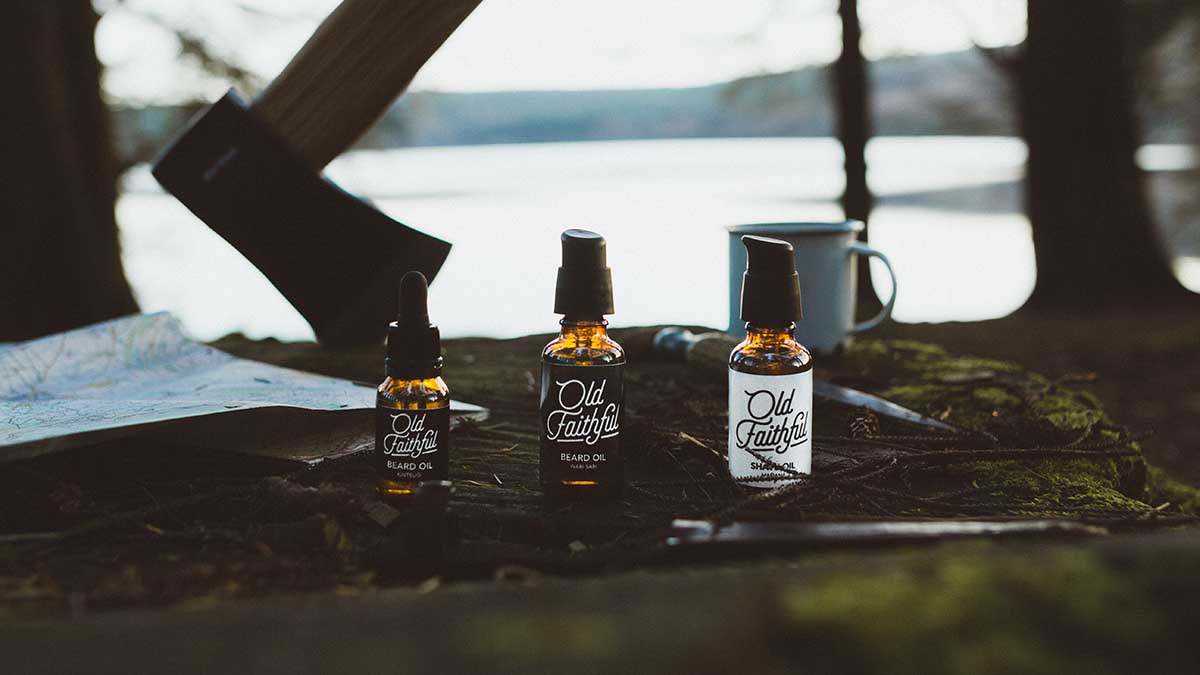 The perfect gift for the bearded Welshman in your life? Look no further. Old Faithful's beautiful range of beard and shaving oils, moisturisers and balms are the perfect gifts for your face fuzz sporting friends.
Their products start at £11.99 and can be purchased via their website.
Cole & Co
Cole & Co is a family business that first started out with a shop selling clothes, gifts and greetings cards in Beaumaris, Anglesey in 2000.​ In 2010 they started to create a range of delicious soaps and candles from their kitchen table. The rest is history.
Order online here — or pop in and see them!
---
Jewellery
Bethan Corin
North Wales based Bethan makes beautiful pieces from her home studio. With a focus on the finer details, form and texture, we love her work!
Emma Smith
Emma's work is inspired by the soft organic forms and beautiful colours found in the landscape of her home, Snowdonia. She work with the cycles of nature to design collections of one of a kind pieces.
---
Experiences
Welsh Photography Workshops
We called this one out last year as well — many of our contributors offer you the chance to head out with them and hone your skills — some of our favourites include:
Alyn Wallace — if shooting the night sky is your thing then Alyn's astrophotography workshops will be perfect
Drew Buckley — workshops across Pembrokeshire and on the amazing Skomer Island
Simon Kitchin — Snowdonia based Simon Kitchin offers workshops across the National Park
Rent a camper for a weekend away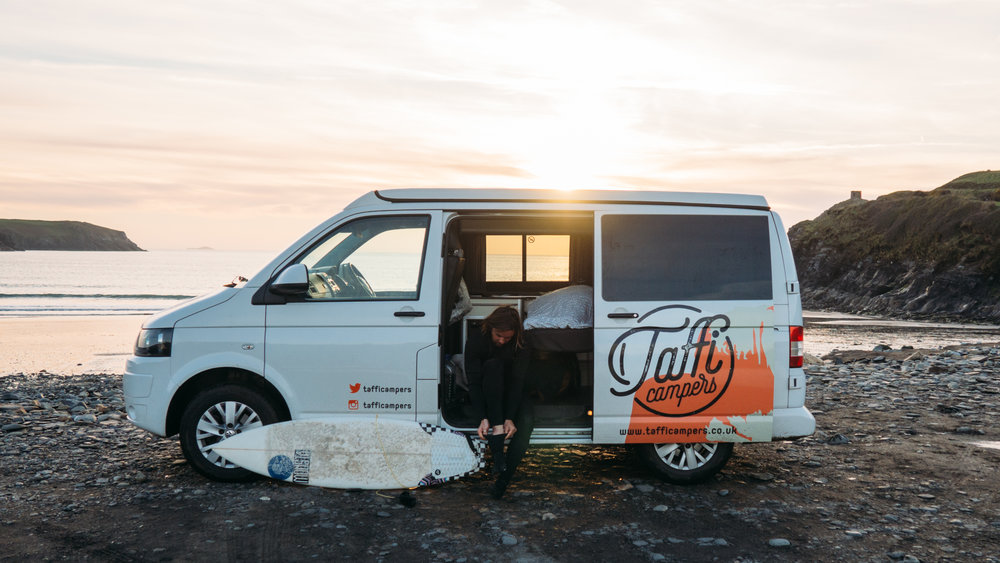 What better way to see the Welsh countryside than on four wheels? Luckily for you there are a bunch of great independent campervan companies popping up all over Wales.
Taffi Campers can hook you up down south, and Camper Adventure are based up North.
Give the art of adventure
From mountain survival skills to rock climbing, rafting to mountain biking, hiking to horse riding, Wales really does have it all if you love the outdoors.
While we can't list every outdoor activity provider in Wales (there are plenty of places that do), here are some that we have heard good things about or personally had great experiences with for when the world gets a bit more back to normal.
A gift voucher for any of the above will go down a treat in a Christmas stocking (plus you get to go along to!)
---
Right, that's it. We're done. We hope you're inspired!
Shop local. Diolch.