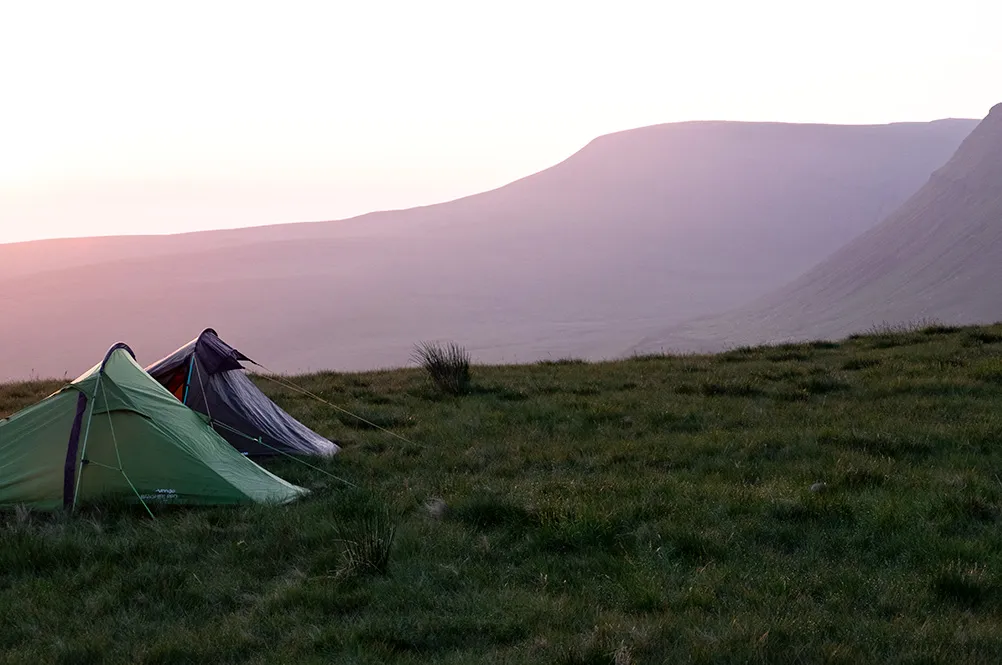 Gear Review: Vango Banshee Pro 200 Tent
If you've been out and about camping in the UK over the last couple of years, chances are you've seen the Vango Banshee 200 tents knocking about. This tent has become a mainstay of adventurers, hikers and backpackers the world over — and for good reason.
Finding myself in the market for a new tent last year, I decided to see what the hype was about and picked up one for myself.
What was I looking for in a tent?
It's probably worth explaining a bit about what I was looking for in a new tent:
Lightweight — We're not talking ultralight, but something that would fit comfortably in my pack for a multi-day pack hikes.
Water and weather proof — A lot of the hiking I was doing at the time was in Wales, and the Brecon Beacons specifically. If you've visited you'll know the rain (and wind) can come from anywhere — and at any time of year.
Room for me and my gear — or me plus one if not wild camping.
Easy to pitch — because no-one likes wrestling with a tent after a hard day on the hills.
Within my budget — I had £150 to spend.
Now let's be clear, there are plenty of tents that meet those criteria, and if you have a bit more cash to spend, you'll likely get something much lighter.
But I'm not after fancy, I'm after practical and hard working. The first time I headed out for a wild camp in this tent, my mate pulled his tent out of his pack when we reached our destination. He explained how much he loved his tent, that it had seen him through months of backpacking in New Zealand.. that it was over five years old and going strong. It was a Banshee 200.
The Vango Banshee Pro 200 Features
The Banshee 200 is a tunnel tent — if you're expecting the room to stand up, you'll want to look elsewhere. But, with a door on both sides of the tent, and space to store your pack down one side (Vango generously call it a porch..), there is a decent amount of space for one person. Having shared this tent on a couple of occasions, it's definitely a squeeze — but doable.
Coming in with a pack weight of 2.16kg, the Banshee definitely isn't the lightest on the market. But if you're after a bit of extra space and some reliable shelter I think it's worth the weight. The tent packs down really well, helped in no small part by Vango's Fastpack bags. The alloy poles are lightweight, and while I've not been out in super high winds yet, feel very sturdy.
With a hydrostatic head of 5000mm, the Banshee punches above it's weight (and price-point!) when it comes to keeping you dry.
I've now used the tent across Wales in the Brecon Beacons, the Elan Valley, the Gower Peninsula — and more recently I've put it through its paces in New Zealand, Australia's Victorian High Country, and on the Great Ocean Walk. I've been impressed with how well it stands up to the weather. It has a couple of built-in vents, and the ability to open the zip doors from the top to get some airflow through is great in warmer weather.
Pitching and packing the Banshee 200
Vango promise a pitching time of 7 minutes. While my first attempt may have been a bit longer, I reckon that's pretty accurate. The Banshee only has two poles, with the tent held up by pegging out the flysheet and guy ropes. You'll need ground that's a bit softer if you want any chance of getting the pegs in — and they're essential to the structure. You're not going to be pitching this one on the edge of a rocky cliff for that Insta shot. (If you're not following 'You Did Not Sleep There' on Instagram, you probably should).
I did run into one problem with the lack of freestanding ability with some hard camping platforms in Australia! Thank god for the rocks.
All of the above makes it very quick to pitch, just make sure your pegs are well secured. The Vango TBS II Tension Band System means you can tension them up to stop sideways movement in high winds.
A bonus for multiday hikes is that you can keep the inner section of the tent attached to the outer when packing the tent down, which saves a fair bit of time. In fact, I'm yet to take the inner apart from the flysheet aside from when drying it all after one particularly damp night on the Welsh coast.
The Verdict
I'm a fan.
This a great multi-day hiking tent. It's compact, lightweight, and will easily stand up to three seasons of weather. I haven't tested the Banshee in the snow as yet, but I used it in sub-zero temperatures in New Zealand and it did well. For full transparency, if I had to list the negatives of this tent, they'd be as follows:
It's only a two man if you're not lugging gear. With two people plus packs, you're going to be cramped. Or your gear is getting wet.
If you're much taller than me (about 5′ 10″) you're probably going to want a bit more length.
BUT, if you're willing to spend a bit more, or carry a bit more weight, Vango now make a Banshee 200 Plus (more length) and the Vango 300 is well worth a look.