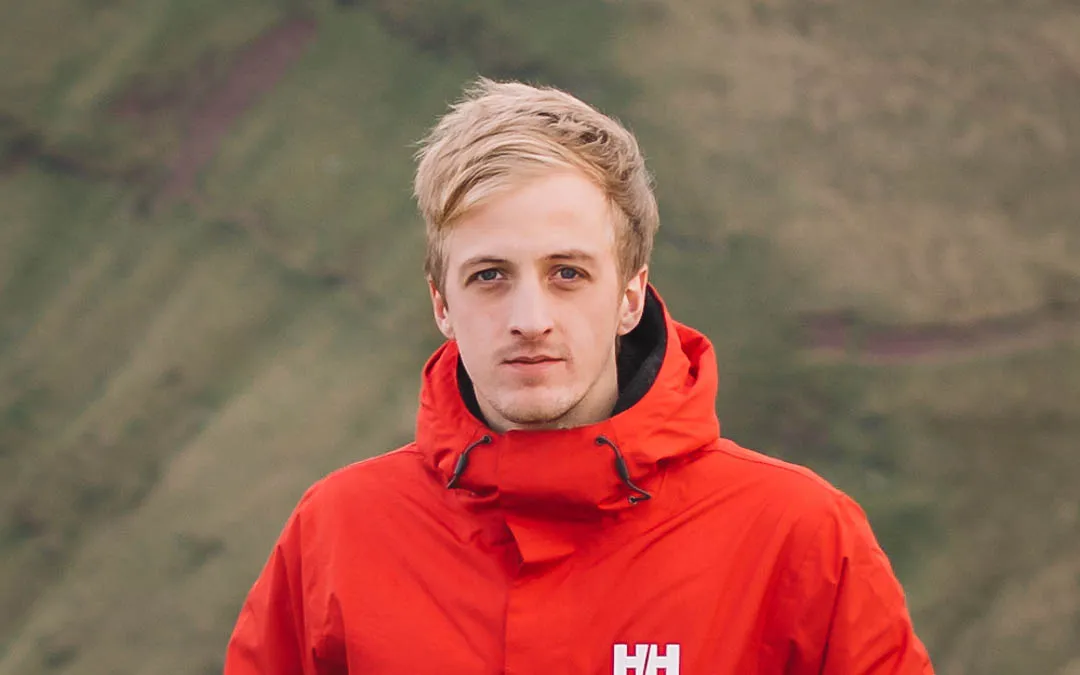 Meet the Photographer: Alyn 'Wally Wanders' Wallace
Next up in our Meet the Photographer series is the brilliant Alyn Wallace.
You might know him from Instagram as 'Wally Wanders'.
He's one of Wales most followed photographers – and rightly so. His shots from the Brecon Beacons and beyond make up some of the finest astrophotography and landscape work coming out of Wales. We were chuffed to be able to feature one of Alyn's favourite shots on the cover of our Discover Cymru Calendar 2017.
Alyn's based out of South Wales, and if you'd like to learn more about Astrophotography he's hosting a few workshops over the next few weeks. All you need is a camera a tripod – you can find out more over on his Facebook page.
Over to Alyn.
When did you first get into photography?

About 2 years ago (summer 2015) I realised that my trip to a light pollution free place in Turkey was timed nicely with the Perseids meteor shower.
After years of saying, "I wish I had a proper camera" that was finally the prompt I needed and the starter of quite a butterfly effect.
Where's you favourite location to shoot?
Anywhere there are dark skies.
We're quite lucky in Wales in that we have a lot of land protected from light pollution, be it the Brecon Beacons, Elan Valley, or Snowdonia National Park. There's plenty of unprotected dark skies along the South and West coast too which offer an incredible view to the centre of our galaxy, the Milky Way.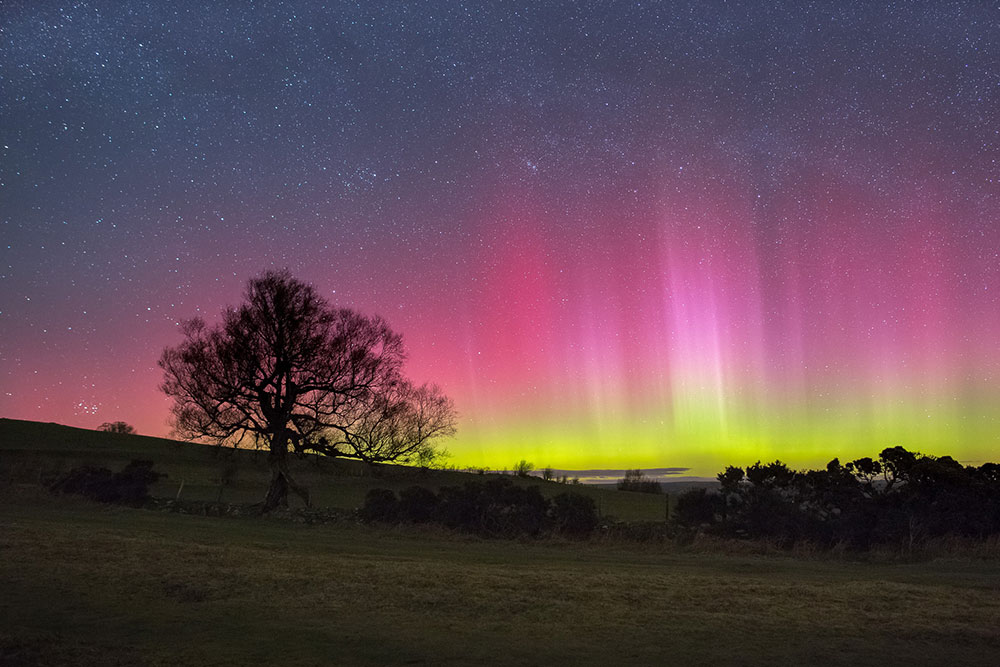 What's on your bucket list for 2017, in Wales and beyond?
I've already ticked off an Icelandic road trip under the northern lights and started to run some astrophotography workshops.
My next mission is to buy a campervan which will open the door to all sorts of adventures. After that I've got my eyes set on the Matterhorn – I've already found a date the ISS will pass over it, intersecting the milky way core too.
At the end of the year there's chatter of a multinational reunion of friends in Thailand. In between all of this I'm hoping to embark on a few more Welsh bothy adventures and get some more miles on my boots up in Snowdonia.
What equipment do you shoot with?
The Canon 6D is my baby and workhorse. When it's daytime I use a triplet of Canon glass… the 16-35mm f/4, 24-70mm f/2.8 and a 70-200mm f/4. And I normally lug a DJI Phantom 3 Pro around with me for the aerials.
When it comes to night I pull out the prime lenses, the Samyang 14mm f/2.8, 24mm f/1.4 and the Canon 50mm f/1.8 STM.
What would be your top piece of advice for anyone wanting to get into landscape or astro photography?
Be there. And be an opportunist.
Photography is usually my motivator to get outside, but even if I don't come back with a keeper the experience of being outdoors, enjoying nature, and exercising is never one I regret.
Just get outisde and enjoy the beauty on your doorstep.
How do you survive the nights out on the Brecon Beacons?
Hah! Fortunately there's nothing out there trying to eat me!
Some good merino wool thermals are a good start and you can't beat the warmth and packability of a down jacket. A hot drink always goes a long way – but whiskey goes a little further!
If I know I'm going to be standing around in the snow for prolonged periods I'll stick a couple of Hot Hands Hand Warmers in the end of my boots. The extremities of your body are the first to go in the cold, so I try to keep them as comfortable as possible. I find it's impossible to be creative if you're uncomfortable and distracted.
Which shot of Wales that you've taken are you most proud of? Why?
Oh wow that's a toughy.
Possibly this one of the winter Milky Way over a snow capped Corn Du. My tent was struggling in the high wind and it hit about minus 12 degrees with the wind chill that night. I couldn't see anything though the mist and spin drift and I was just about to descend in hopelessness when the wind just stopped, everything calmed down and the stars emerged so magically (still not sure if the word to use is endurance or stupidity).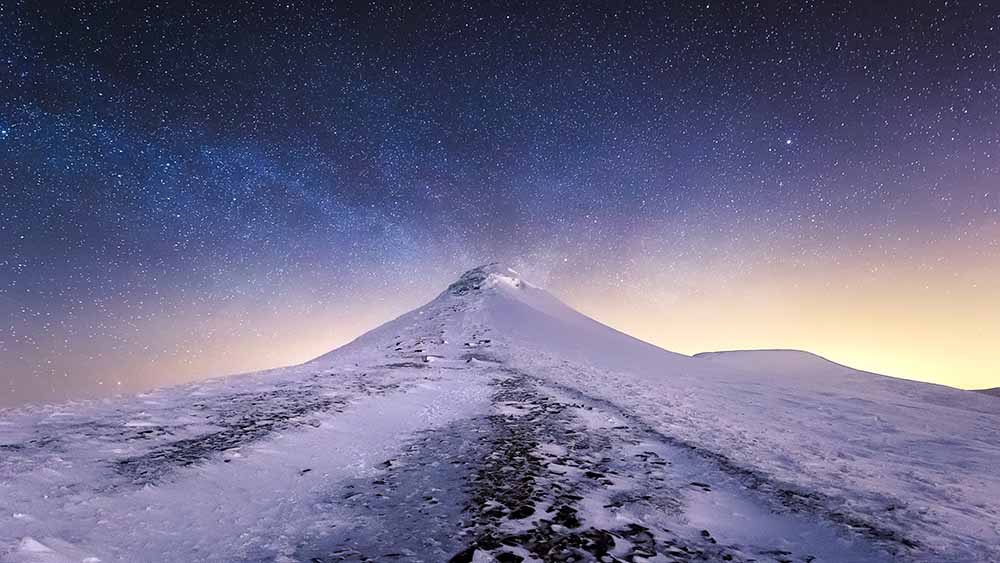 In all my numbness, seeing this shot on the back of the camera brought a welcome warmth with it, but not as much as the light of the rising sun washing over me that morning.
Thanks Alyn!
---
Follow Alyn on Instagram and head to his website to see more of his work and find our about future workshops.
You can meet more of Wales' best photographers in our Meet the Photographer series.